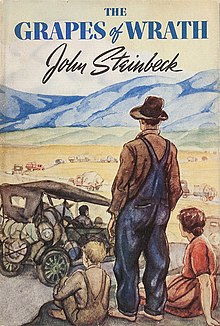 The Grapes Of Wrath
We found
23

free papers on The Grapes Of Wrath
John Steinbeck emphasizes Ma Joad. Steinbeck uses Ma Joad to express his views on how people can reach the American Dream. In the book, Steinbeck does not express that individuals can achieve the American Dream. He expresses his idea that the people should unite and continue to strive for the American Dream even through the…
Show More
author
John Steinbeck
genre
Novel
originally published
April 14, 1939
description
The Grapes of Wrath is an American realist novel written by John Steinbeck and published in 1939. The book won the National Book Award and Pulitzer Prize for fiction, and it was cited prominently when Steinbeck was awarded the Nobel Prize in 1962.
characters
Tom Joad, Casy, Uncle John Joad, Ma Joad, Pa Joad
information

Page count: 464

Location: Oklahoma
Frequently Asked Questions about The Grapes Of Wrath
Don't hesitate to contact us. We are ready to help you 24/7
What is the main point of The Grapes of Wrath?
The Grapes of Wrath can be read as a proletarian novel, advocating social change by showing the unfair working conditions the migrants face when they reach California. The men who own the land there hold the power, and attempt to control supply and demand so that they can get away with paying poor wages.
What is the story grapes of wrath about?
The Grapes of Wrath, the best-known novel by John Steinbeck, published in 1939. It evokes the harshness of the Great Depression and arouses sympathy for the struggles of migrant farmworkers. The book came to be regarded as an American classic.
What is the thesis of grapes of wrath?
The significance of the thesis of this American classic is during the Great Depression in America the people were living in torment, so to not live in agony they decide to search for jobs and land. John Steinbeck's intention was to accentuate the dangerous of American migrant workers.
Why was The Grapes of Wrath so controversial?
When it was first published in 1939, businessmen, farmers, teachers, and parents raised serious objections to John Steinbeck's The Grapes of Wrath. They protested the novel's foul language, religious themes, sexual overtones, and communist implications.