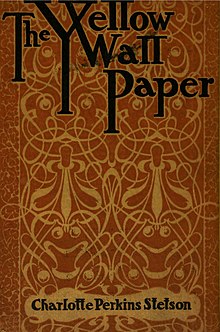 The Yellow Wallpaper
We found
22

free papers on The Yellow Wallpaper
Post-Partum Psychosis and "The Yellow Wallpaper" "The Yellow Wallpaper," by Charlotte Perkins Gilman, tells the story of a woman's descent into madness as a result of postpartum psychosis. Postpartum psychosis is a condition that affects between one and two of every thousand live births. The condition of postpartum psychosis usually begins within two weeks of…
Show More
author
Charlotte Perkins Gilman
genre
Short story,Fiction,Reference work
originally published
January 1892
description
"The Yellow Wallpaper" is a short story by American writer Charlotte Perkins Gilman, first published in January 1892 in The New England Magazine.
characters
The Woman in the Wallpaper, John, Mary, Narrator, Jennie
information

Text: The Yellow Wallpaper

Plot: "The Yellow Wallpaper" details the deterioration of a woman's mental health while she is on a "rest cure" on a rented summer country estate with her family. Her obsession with the yellow wallpaper in her bedroom marks her descent into psychosis from her depression throughout the story.

Location: "The Yellow Wallpaper" takes place in a colonial mansion in the countryside. The narrator describes it as beautiful but isolated. Thus, she states, it is quite alone, standing well back from the road, quite three miles from the village.,
Frequently Asked Questions about The Yellow Wallpaper
Don't hesitate to contact us. We are ready to help you 24/7
What is the message of The Yellow Wallpaper?
The primary theme of "The Yellow Wallpaper" is that women who are suffering from post-partum depression, or any kind of depression, should be respected and allowed to make decisions regarding their own lifestyle and health.
What is the conclusion of The Yellow Wallpaper?
The YellowWallpaperis a touching narrative that really brings light to numerous social issues and society as a whole. The sociological perspective frames personal troubles as public issues, and the narrator's nervous condition is a result of her interactions with society and the people she knows.
What is the mental illness in the Yellow Wallpaper?
These actions make it clear that the narrator has lost her mind. Gilman, who also suffered from depression, brilliantly uses the yellow wallpaper as a representation of the structure of domestic life that women can get trapped in by overpowering family members or friends.
What is a good thesis statement for the yellow wallpaper?
Thesis #2: Charlotte Perkins Gilman wrote "The Yellow Wallpaper" in the form of a diary kept by an allegedly hysterical woman who uses the diary as a means of escape. Thesis #3: The end of "The Yellow Wallpaper" suggests that freedom can only be obtained through insanity.