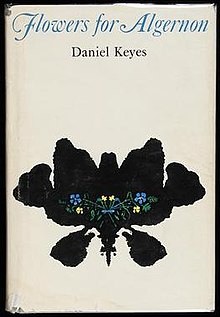 Flowers For Algernon
We found
12

free papers on Flowers For Algernon
Ethics
Experiment
Flowers For Algernon
The experiment performed in Charlie Gordon is not an ethical experiment and this is seen in the text Flowers For Algernon. An ethical experiment is defined in The World Book Dictionary and Ethical Intersections: Health Research, Methods and Researcher Responsibility, as an operation for the purpose of discovering something unknown using morally acceptable methods of…
Show More
author
Daniel Keyes
genre
Science fiction
originally published
April 1959
description
Flowers for Algernon is the title of a science fiction short story and a novel by American writer Daniel Keyes. The short story, written in 1958 and first published in the April 1959 issue of The Magazine of Fantasy & Science Fiction, won the Hugo Award for Best Short Story in 1960.
antagonist
Professor Nemur
quotations

"There are a lot of people who will give money or materials, but very few who will give time and affection." "A child may not know how to feed itself, or what to eat, yet it knows hunger." "My feeling for you won't change because I'm becoming intelligent. "Just leave me alone. "I am afraid.,"I don't know what's worse: to not know what you are and be happy, or to become what you've always wanted to be, and feel alone." "That's the thing about human life–there is no control group, no way to ever know how any of us would have turned out if any variables had been changed."

information

Pages: 311 (novel)

Book setting: Flowers for Algernon takes places in rollicking 1960s New York, around the same time the book was written.,
Frequently Asked Questions about Flowers For Algernon
Don't hesitate to contact us. We are ready to help you 24/7
What is a good summary for Flowers for Algernon?
Algernon is a laboratory mouse who has undergone surgery to increase his intelligence. The story is told by a series of progress reports written by Charlie Gordon, the first human subject for the surgery, and it touches on ethical and moral themes such as the treatment of the mentally disabled.
What is a good thesis statement for Flowers for Algernon?
The thesis statement is a debatable claim or point you wish to prove. 6. Hook examples for "Flowers for Algernon": " No pig ever had truer friends, and [Wilbur] realized that friendship is one of the most satisfying things in the world." -- E. B.
What is the deeper meaning of Flowers for Algernon?
Algernon, the lab mouse, is symbolic of the part of Charlie that is viewed as a science experiment, the piece of Charlie that resents the professor for not treating him like a human being. ... For Charlie, Algernon symbolizes his own identity and struggles. For the reader, Algernon symbolizes fate, reality, and death.
What is the theme of Flowers for Algernon essay?
Flowers for Algernon is a text in which Charlie Gordon decides to undergo an intelligence surgery to increase his IQ. He believes that being smarter is the key to happiness and acceptance. As humans this is something we all want and look for in life.