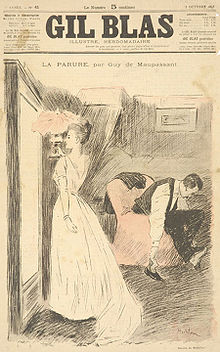 The Necklace
We found
12

free papers on The Necklace
Explore the ways in which each writer presents the changing fortune of their protagonist in 'The Necklace' and 'Disabled' In this essay I will compare and contrast the techniques used by Guy De Maupassant and Wilfred Owen in order to evaluate how each writer conveys the changing fate of their protagonist. Both writers show how…
Show More
author
Guy de Maupassant
genre
Short story
originally published
February 17, 1884
description
"The Necklace" is an 1888 short story by French writer Guy de Maupassant. It is known for its twist ending, which was a hallmark of de Maupassant's style. The story was first published on 17 February 1884 in the French newspaper Le Gaulois.
antagonist
Mathilde herself
climax
The climax of "The Necklace" occurs, according to the first definition, when Mathilde discovers that she has lost the necklace. According to the second definition, the climax occurs at the end of the story, when Madame Forestier informs Mathilde that the lost necklace was a fake.,
information

Original title: "La Parure"

Personification: One example of personification from the story "The Necklace" is that Mathilde's house "tortured her and made her angry." Walls and curtains have no ability to "torture" a human, and this personification conveys Mathilde's unwillingness to take any personal responsibility for her own feelings of misery.,
Frequently Asked Questions about The Necklace
Don't hesitate to contact us. We are ready to help you 24/7
What is the lesson of the necklace?
Guy de Maupassant's short story "The Necklace" is about a young woman, Madame Loisel, who daydreams about wealth, social status and luxury. A saying that sums up the moral of the story might be: Be satisfied and grateful for the things you have rather than striving for things that may appear better but often are not.
What is a good topic sentence for the necklace?
The Necklace is a story whose most prominent element is theme; specifically, the theme of materialism. This, then can be the topic, and to arrive at a thesis ask, "So what about materialism?" One answer is that Madame Loisel cannot be happy in her marriage as she values material things more than spiritual ideals.
What did the necklace symbolize?
The necklace represents everything that Mathilde wants and does not have, all the material possessions of a finer life. ... After Mathilde and her husband go into debt and poverty, the necklace symbolizes the wealth that Mathilde can now never hope to have.