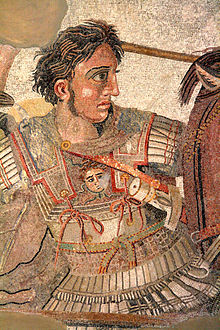 Alexander The Great
We found
10

free papers on Alexander The Great
Alexander the Great, king of Macedonia was undoubtedly one of the most powerful and influential leaders in history. His unprecedented control over his military as well as a strong economic backbone enabled him to conquer the majority of the known civilization. He ruled with fear and conquered through strength. Yet when taking a step back…
born
July 356 BC, Pella
died
June 323 BC, Babylon
description
Alexander III of Macedon, commonly known as Alexander the Great, was a king of the ancient Greek kingdom of Macedon. A member of the Argead dynasty, he was born in Pella—a city in Ancient Greece—in 356 BC.
children
Alexander IV of Macedon, Heracles of Macedon
quotations

Remember upon the conduct of each depends the fate of all. I am not afraid of an army of lions led by a sheep; I am afraid of an army of sheep led by a lion. There is nothing impossible to him who will try. I am indebted to my father for living, but to my teacher for living well.,In the end, when it's over, all that matters is what you've done. I am not afraid of an army of lions led by a sheep; I am afraid of an army of sheep led by a lion. True love never has a happy ending, because there is no ending to true love.

information

Full name: Alexander III of Macedon

Spouse: Roxana (m. 327 BC–323 BC), Stateira II (m. 324 BC–323 BC)

Parents: Philip II of Macedon, Olympias

Nationality: Greek, Macedonian
Frequently Asked Questions about Alexander The Great
Don't hesitate to contact us. We are ready to help you 24/7
Does Alexander the Great deserve his title essay?
Alexander the Great deserved his title because he extended his massive empire, also naming many cities after himself. Alexander the Great had conquered so much land that he was able to name more than 70 cities after himself and one after his horse. ... Alexander had created the biggest empire ever, even today. Read More:
https://graduateway.com/alexander-the-great-according-to-arrian/
Why Alexander is called the Great?
He is known as 'the great' both for his military genius and his diplomatic skills in handling the various populaces of the regions he conquered.
Why is Alexander the Great important today?
During his 13-year reign as the king of Macedonia, Alexander created one of the largest empires of the ancient world, stretching from Greece to northwestern India. ... His empire ushered in significant cultural changes in the lands he conquered and changed the course of the region's history.
Why was Alexander the Great so great essay?
Alexander was a visionary. His ability to dream, plan and strategize on a large scale allowed him too many battles, even when he was outnumbered. It also helped motivate his men, who knew they were part of one of the greatest conquests in history. Alexander could be inspiring and courageous, continued Abernethy.