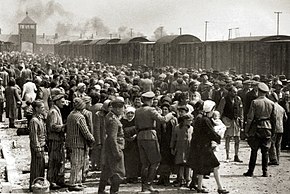 Holocaust
We found
26

free papers on Holocaust
Approximately one year before World War II started, in late 1938 a power hungry-dictator caused such an event it's remembered throughout history. The Holocaust was one of the world's darkest hours, a mass murder conducted in the shadows of the world's most deadly war. The German government controlled by the brutal Nazi Party and its…
Show More
description
The Holocaust, also known as the Shoah, was the genocide of European Jews during World War II. Between 1941 and 1945, Nazi Germany and its collaborators systematically murdered some six million Jews across German-occupied Europe, around two-thirds of Europe's Jewish population.
information

Start date: 1941

Deaths: Around 6 million Jews

End date: May 8, 1945

Location: Nazi Germany, German-occupied Europe
Frequently Asked Questions about Holocaust
Don't hesitate to contact us. We are ready to help you 24/7
How do you write a thesis statement for the Holocaust?
For example, if you are going to discuss the causes of the Holocaust, you would ask yourself, 'What were the causes of the Holocaust in World War II? ' and then gather your evidence as part of your research for your essay. Try to write your thesis statement in one or two sentences, concisely and comprehensively. Read More:
https://graduateway.com/the-benefits-of-the-holocaust-for-the-jews-essay/
How does Germany teach ww2?
In addition to photo and video documentaries, most schools organize mandatory school trips to holocaust memorials, usually former concentration camps. This does not only apply to history class. Students are also introduced to works of literature tackling the issue of Nazism and ethnic hate in Europe of the time. Read More:
https://graduateway.com/the-link-between-anti-semitism-and-the-holocaust/