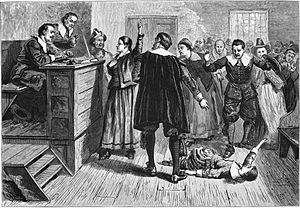 Salem Witch Trials
We found
18

free papers on Salem Witch Trials
            Nathaniel Hawthorne published the short story "Young Goodman Brown" in 1835, more than a hundred years after the infamous Salem Witch Trials of 1692. Despite the distance, the fictional text by Hawthorne about one man's diabolic dream relates closely to the historical event which claimed many lives in that particular history of New England….
Show More
description
The Salem witch trials were a series of hearings and prosecutions of people accused of witchcraft in colonial Massachusetts between February 1692 and May 1693. More than two hundred people were accused. Thirty were found guilty, nineteen of whom were executed by hanging.
information

Start date: February 1692

Location: Province of Massachusetts Bay

End date: May 1693
Frequently Asked Questions about Salem Witch Trials
Don't hesitate to contact us. We are ready to help you 24/7
What are 3 facts about the Salem witch trials?
Over 150 men and women were imprisoned because they were accused of witchcraft. 19 men and women were hanged, 1 man was crushed and 7 people died in prison. The place in Salem where the 'witches' were hanged became known as Gallows Hill. People would gather there to watch the latest witch be hanged. Read More:
https://graduateway.com/puritan-society-that-lived-in-salem/
What caused the Salem witch trials essay?
The salem witch trials hysteria of 1692 was caused by the Puritans strict religious standards and intolerance of anything not accepted with their scripture. The largest account of witch trials as well as deaths by witch trials occurred in Salem, a village heavily populated with the Puritans. Read More:
https://graduateway.com/the-salem-witch-hunt-of-1692/
What were the 3 causes of the Salem witch trials?
Accusations followed, often escalating to convictions and executions. The Salem witch trials and executions came about as the result of a combination of church politics, family feuds, and hysterical children, all of which unfolded in a vacuum of political authority.
What were the Salem witch trials short summary?
The Salem witch trials occurred in colonial Massachusetts between 1692 and 1693. More than 200 people were accused of practicing witchcraft—the Devil's magic—and 20 were executed. Eventually, the colony admitted the trials were a mistake and compensated the families of those convicted.