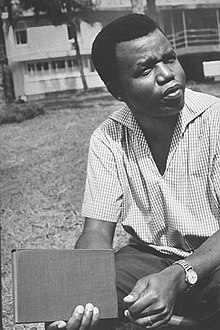 Chinua Achebe
We found
23

free papers on Chinua Achebe
Chinua Achebe
Things Fall Apart
Things Fall Apart: An Evaluation In "Things Fall Apart," Chinua Achebe tells two different stories at the same time. One is of Okonkwo, the villager whose rise to power is halted because of all of his misfortunes. The other is of Okonkwo's village, Umuofia, and its struggle to hold on to its cultural tradition while…
Show More
information

Short biography of Chinua Achebe

Chinua Achebe was born on November 16, 1930 and died March 21, 2013. He was a Nigerian writer and professor. His first novel Things Fall Apart (1958), often considered his best, is the most widely read book in modern African literature.Born Albert Chinualumogu Achebe in Ogidi, Anambra State, he was the fifth of six children. His parents, Isaiah Okafo Achebe and Janet Anaenechi Iloegbunam, were converts to Anglicanism from traditional Igbo religion. Achebe's father was the first man of Igbo origin to become a district commissioner in colonial Nigeria.Achebe was raised by his parents in the Igbo town of Ogidi, in what is now the state of Anambra.

He was educated in English at University College (now the University of Ibadan), where he graduated with distinction in 1952. He then attended the British Broadcasting Corporation (BBC) training program in London before returning to Nigeria to work for the Eastern Nigerian Ministry of Information.Things Fall Apart (1958) is the most widely read book in modern African literature. It is a staple book in schools throughout Africa and has been translated into more than fifty languages.The novel tells the story of Okonkwo, an Igbo man from the fictional village of Umuofia in southeastern Nigeria during the late 19th century. The novel follows Okonkwo's fall from grace as he witnesses the destruction of his society by British colonial forces.Achebe's other novels include No Longer at Ease (1960), Arrow of God (1964), A Man of the People (1966), and Anthills of the Savannah (1987). He also wrote several children's books, including How the Leopard Got His Claws (1972) and The Drum (1975).In addition to his novels, Achebe wrote several essays, including "An Image of Africa: Racism in Conrad's Heart of Darkness" (1975), in which he criticizes Joseph Conrad's novel Heart of Darkness for its portrayal of Africa and Africans.Achebe was a professor of English at the University of Nigeria, Nsukka, from 1960 to 1990. He then became a professor of Africana Studies at Brown University in the United States, where he taught until his retirement in 2009.Achebe was awarded the Nigerian National Order of Merit in 2004 and the Man Booker International Prize in 2007. He died on March 21, 2013, at the age of 82.

General Essay Structure for this Topic

The Importance of Chinua Achebe's novel, Things Fall Apart
The Uniqueness of Chinua Achebe's writing style
The Significance of the novel, Things Fall Apart
The Historical Accuracy of Chinua Achebe's novel
The Authenticity of the Characters in Things Fall Apart
Themes and Symbols in Chinua Achebe's novel, Things Fall Apart
The Structure of Chinua Achebe's novel, Things Fall Apart
The Narrative Voice in Chinua Achebe's novel, Things Fall Apart
Frequently Asked Questions about Chinua Achebe
Don't hesitate to contact us. We are ready to help you 24/7
What does Chinua Achebe write about?
What did Chinua Achebe write? Chinua Achebe is most famous for his novel Things Fall Apart, published in 1958, which tells the story of an Igbo village's reaction to British missionaries and colonial authorities. ... He also published several other novels, short stories, children's books, and essays. Read More:
https://graduateway.com/heart-of-darkness-review/
What is Achebe's thesis in an image of Africa?
Achebe argues that the racist observed in the Heart of Darkness is expressed due to the western psychology or as Achebe states "desire," this being to show Africa as an antithesis to Europe. He first states Conrad as "one of the great stylists of modern fiction." [pg. Read More:
https://graduateway.com/okonkwo/
What is the purpose of Achebe's essay?
Achebe is trying not only to inform the outside world about Ibo cultural traditions, but to remind his own people of their past and to assert that it had contained much of value. All too many Africans in his time were ready to accept the European judgment that Africa had no history or culture worth considering.
Why did Chinua Achebe write an image of Africa?
The author's idea is to show how European civilized people see Africa. It does not mean that Joseph Conrad is "a bloody racist" (Achebe 11), it means that Joseph Conrad has noticed the problems which existed in Africa and tried to show them to the whole world.