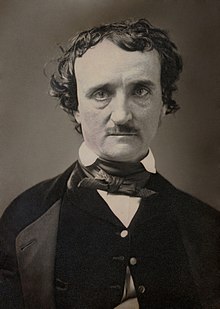 Edgar Allan Poe
We found
140

free papers on Edgar Allan Poe
Edgar Allan Poe
The Raven
Edgar was eventfully cared for by John Allan, a wealthy tobacco merchant, who cared for Edgar as if he was his own child and welcomed Edgar into his family with open arms. (Biography: Edgar Allen Poe, 1994) (Who Is Edgar Allan Poe? ) It was during his younger years that Mrs.. Allen would shower Edgar…
Show More
born
January 19, 1809, Boston, MA
died
October 7, 1849, Church Home & Hospital, Baltimore, MD
description
Edgar Allan Poe was an American writer, poet, editor, and literary critic. Poe is best known for his poetry and short stories, particularly his tales of mystery and the macabre. He is widely regarded as a central figure of Romanticism in the United States, and of American literature.
books
The Raven 1845, The Tell-Tale Heart 1843, The Fall of the House of Usher 1839
education
United States Military Academy (1830–1831), University of Virginia (1826–1826)
quotations

"I became insane, with long intervals of horrible sanity." "All that we see or seem is but a dream within a dream" "There is no exquisite beauty… "Those who dream by day are cognizant of many things which escape those who dream only by night"

information

Short biography of Edgar Allan Poe

Edgar Allan Poe (born Edgar Poe; January 19, 1809 – October 7, 1849) was an American author, poet, editor, and literary critic, considered part of the American Romantic Movement. Best known for his tales of mystery and the macabre, Poe was one of the earliest American practitioners of the short story and is generally considered the inventor of the detective fiction genre. He is further credited with contributing to the emerging genre of science fiction. He was the first well-known American writer to try to earn a living through writing alone, resulting in a financially difficult life and career. Poe, a southern writer, was born in Boston, the second child of two actors. His father abandoned the family in 1810, and his mother died the following year.

Thus orphaned, the child was taken in by John and Frances Allan of Richmond, Virginia. Tension between Poe and John Allan reached a breaking point after Poe's unsuccessful attempt to gain control of his inherited fortune, prompting Allan to disown him. Poe quarreled with Allan over the funds for his education and enlisted in the Army in 1827 using the name "Edgar A. Perry", adopting the surname "Poe" upon his discharge in 1829. His publication in 1827 of a collection of poems, Tamerlane and Other Poems, brought him some fame and a certain amount of notoriety. By 1831 he had completed a novel, although it was not published until 1833, after his death. With the death of Frances Allan in 1829, Poe and Allan reached a temporary rapprochement. However, Poe later failed as an officer cadet at West Point, declaring a firm wish to be a poet and writer, and he ultimately parted from John Allan. Poe switched his focus to prose and spent the next several years working for literary journals and periodicals, becoming known for his own style of literary criticism. His work forced him to move among several cities, including Baltimore, Philadelphia, and New York City.

In Baltimore in 1835, he married Virginia Clemm, his 13-year-old cousin. In January 1845 Poe published his poem "The Raven" to instant success. His wife died of tuberculosis two years later. Poe planned for years to produce his own journal The Penn, through which he would flex his talents, but he was never able to make the journal profitable. He died in October 1849 at age 40; the cause of his death is unknown and has been variously attributed to alcohol, brain congestion, cholera, drugs, heart disease, rabies, suicide, tuberculosis, and other agents. Poe and his works influenced literature in the United States and around the world, as well as in specialized fields such as cosmology and cryptography. Poe and his work appear throughout popular culture in literature, music, films, and television. A number of his homes are dedicated museums today.

General Essay Structure for this Topic

Poe's Life and Works
Poe's Themes
Poe's Writing Style
Poe's Use of Imagery
Poe's Use of Symbolism
Poe's Use of Gothic Elements
Poe's Use of Satire
Poe's Use of Horror
Poe's Influence on Other Writers
Poe's Legacy

Important information

Spouse: Virginia Eliza Clemm Poe (m. 1836–1847)

Short stories: The Black Cat, The Tell-Tale Heart, The Fall of the House of Usher
Frequently Asked Questions about Edgar Allan Poe
Don't hesitate to contact us. We are ready to help you 24/7
Did Edgar Allan Poe write essays?
Edgar Allan Poe is an American author who has been very popular for many years even after his death. He was a very diverse writer and wrote short stories, poetry, a novel, a textbook, a book of scientific theory, and hundreds of essays and book reviews. Read More:
https://graduateway.com/a-tell-tale-liar-essay/
What is Edgar Allan Poe's writing style?
He brought a style of gothic writing in order to make statements and used the concept of terror, mystery and the supernatural to bring fear and terror to society. This paper explores the different examples of Poe's writing and provides a modern interpretation of his different styles and uses. Read More:
https://graduateway.com/edgar-allan-poe-4/
How did Edgar Allan Poe die essay?
He was taken to the Washington College Hospital, where he died at 5 a.m. on Sunday, October 7. ... Theories as to what caused Poe's death include suicide, murder, cholera, hypoglycemia, rabies, syphilis, influenza, and that Poe was a victim of cooping. Evidence of the influence of alcohol is strongly disputed.
What is Edgar Allan Poe's theory of the short story?
Poe revolutionized the short story with his theory of 'the unity of effect. ' Similarly, the short story required 'a unity of effect' which according to Poe was only achieved with detailed planning of the plot along with a calculated attention to detail.