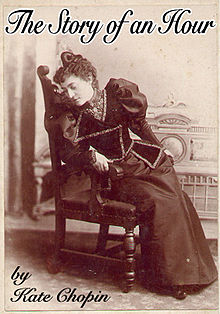 The Story of an Hour
We found
36

free papers on The Story of an Hour
Compare
Literature
The Story of an Hour
During the 19th century women did not really have much power or say in anything that went on. Women were really the ones that stayed home and took care of the family and tended to the house, while the husbands went out and worked. Women stayed out of the lime light and their opinions were…
Show More
| | |
| --- | --- |
| author | Kate Chopin |
| genre | Short story |
| originally published | December 6, 1894 |
| description | "The Story of an Hour" is a short story written by Kate Chopin on April 19, 1894. It was originally published in Vogue on December 6, 1894, as "The Dream of an Hour". It was later reprinted in St. Louis Life on January 5, 1895, as "The Story of an Hour". |
| setting | Set in New Orleans in the 1870s, the film does not follow the almost existential lack of a specific setting and time in "The Story of an Hour." It leans toward the New Orleans settings of The Awakening., Kate Chopin uses setting and the imagery of the setting to communicate "The Story of an Hour's" theme of freedom, independence, and a new life. The story starts in a room is not specified but it is understood that its public because people are gathered there, it can be the living room or even the kitchen. |
| protagonist | Louise Mallard |
| antagonist | In The Story of an Hour, the antagonist would be Mr. Brentley Mallard, Mrs. Mallard's husband. |
| climax | The climax of the story, "The Story of an Hour," occurs when Mrs. Mallard realizes that she is free to be her own woman. |
| information | Imagery: Much of the visual, auditory, and olfactory imagery in the story evokes springtime: rain showers, twittering bird, blue skies, etc. Chopin uses this imagery to suggest the optimism of renewal, a new season, which Louise experiences after learning the news of her husband's death., Imagery helps the reader put themselves in that character's shoes. The descriptive details allow us to fully experience the story being told. By experiencing what the character feels, important themes can be revealed. One of the main themes in "The Story of an Hour" is the theme of freedom. |
Frequently Asked Questions about The Story of an Hour
Don't hesitate to contact us. We are ready to help you 24/7
What is the conclusion of story of an hour?
Mallard's death – is completely undone in the conclusion. It's the opposite of a linear life story because he starts out dying and ends up alive. Meanwhile, Mrs. Mallard's life, which her friends and family tried so hard to protect at the beginning, is lost at the end.
What is the main theme of story of an hour?
The main themes in "The Story of an Hour" are freedom, time, and identity. Freedom: Louise is overjoyed by the realization that Brently's death will render her free to live as she chooses, highlighting the repressive nature of Victorian marriages.
What is the message of the story of an hour?
The message of Kate Chopin's "The Story of an Hour" is about a woman's desire for freedom from marriage and thematically argues that oppression can ultimately be a killer. Chopin's most famous novel is The Awakening.
What is a good thesis statement for the story of an hour?
To take this approach, a thesis statement could look like this: Louise Mallard's shocking death at the end of "The Story of an Hour" suggests that to return to an oppressive marriage would be intolerable after she has contemplated a life lived on her own terms.