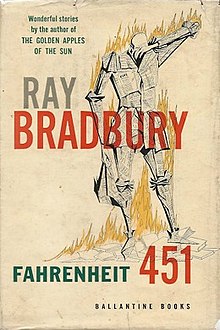 Fahrenheit 451
We found
44

free papers on Fahrenheit 451
Cognition
Fahrenheit 451
Human Activities
In Ray Bradbury's Fahrenheit 451 there are those who defend the cause of language; those who attempt to destroy the value of words and those who are victims of the abuse of power over language and thought, wielded by the government. The fireman, Montag, attempts to use language as weapon against the entrenched ignorance of…
Show More
| | |
| --- | --- |
| author | Ray Bradbury |
| genre | Novel, Science fiction, Dystopian Fiction, Political fiction |
| originally published | October 19, 1953 |
| description | Fahrenheit 451 is a 1953 dystopian novel by American writer Ray Bradbury. Often regarded as one of his best works, the novel presents a future American society where books are outlawed and "firemen" burn any that are found. |
| characters | Guy Montag, Clarisse McClellan, Beatty, Mildred Montag, Faber, Mrs. Clara Phelps |
| antagonist | Captain Beatty |
| quotations | "It was a pleasure to burn.""He was not happy. "We need not to be let alone. "There must be something in books, things we can't imagine, to make a woman stay in a burning house; there must be something there. "A book is a loaded gun in the house next door.Jan 21, 2021 |
| information | Page count: 256 |
Frequently Asked Questions about Fahrenheit 451
Don't hesitate to contact us. We are ready to help you 24/7
What is the message of Fahrenheit 451?
Bradbury's main message is that a society that wants to survive, thrive, and bring its people fulfillment must encourage them to wrestle with ideas. He indicts a society that puts all its emphasis on providing people with a superficial sense of happiness.
How does Fahrenheit 451 relate to today essay?
Fahrenheit 451 can be compared to modern day society through the censorship of individuals ideas and belief. Today, people get offended so easily that the media and/or news has to censor things that they feel will upset people. Libraries are getting closed down and books are treated with disrespect and thrown away.
What is a good summary of Fahrenheit 451?
Ray Bradbury's 1953 novel Fahrenheit 451 is set in a dystopian society that burns books in order to control dangerous ideas and unhappy concepts. The novel tells the story of Guy Montag, a fireman who questions the book-burning policy and undergoes extraordinary suffering and transformation as a result.
What does Fahrenheit 451 teach us?
The central theme of Fahrenheit 451 is the conflict between freedom of thought and censorship. The society that Bradbury depicts has voluntarily given up books and reading, and by and large the people do not feel oppressed or censored.