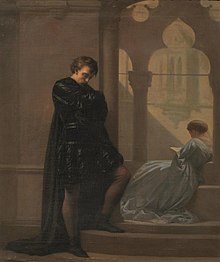 Hamlet
We found
182

free papers on Hamlet
The graveyard scene represents how Hamlet's psychological state has developed throughout the course of the play. He reflects upon various dilemmas which he has previously encountered before undertaking a renewed outlook in relation to life and death. He contemplates the corruption of death which is paralleled to that of which took place in the opening…
Show More
genre
Shakespearean tragedy
originally published
1603
description
The Tragedy of Hamlet, Prince of Denmark, often shortened to Hamlet, is a tragedy written by William Shakespeare sometime between 1599 and 1601. It is Shakespeare's longest play, with 29,551 words.
setting
Denmark
characters

Hamlet
Claudius
Gertrude
Polonius
Ophelia
Laertes
Horatio

quotations

"Why, then, 'tis none to you, for there is nothing either good or bad but thinking makes it so. "To die, to sleep— To sleep, perchance to dream." "The rest is silence." "The lady doth protest too much, methinks." "Though this be madness, yet there is method in 't." ","There is nothing either good or bad, but thinking makes it so." "This above all: to thine own self be true, "To be, or not to be: that is the question: "There are more things in Heaven and Earth, Horatio, than are dreamt of in your philosophy." "To die, to sleep –

climax
Climax When Hamlet stabs Polonius through the arras in Act III, scene iv, he commits himself to overtly violent action and brings himself into unavoidable conflict with the king. Another possible climax comes at the end of Act IV, scene iv, when Hamlet resolves to commit himself fully to violent revenge.,
information

Playwright: William Shakespeare

Original language: Early Modern English

Versions: Shakespeare's Hamlet exists in three early editions published in 1603, 1604-05, and 1623. Nearly all modern editions conflate the three into a single text that includes famous or "important" speeches into a fourth version that would have been unrecognizable to Shakespeare's audience.,

Skull: Yorick's skull in the Hamlet skull scene is a symbol of death, the ultimate destination of life. Hamlet holding the skull represents the duality of life and death. Hamlet symbolizing life, the skull in his hand portraying death. It is just a hand's distance between them!,
Frequently Asked Questions about Hamlet
Don't hesitate to contact us. We are ready to help you 24/7
What are the 5 major themes in Hamlet?
Here are brief accounts of a selection of the major Hamlet themes of revenge, corruption; religion, politics, appearance and reality, and women.
What is the message of Hamlet?
Hamlet, written by William Shakespeare around 1600, is a tragedy that explores themes of friendship, madness, and revenge.