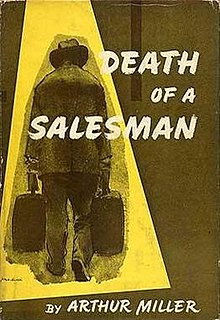 Death of a Salesman
We found
64

free papers on Death of a Salesman
Linda Loman is a flat, undeveloped character, a foil for the main character in Arthur Miller's "Death of a Salesman" (1262). Linda, his wife, has stirred in her bed at the right. She gets out and puts on a robe, listening. Most often jovial, she has developed an iron repression of her exceptions to Willy's…
Show More
genre
Tragedy
originally published
February 10, 1949
description
Death of a Salesman is a 1949 stage play written by American playwright Arthur Miller. The play premiered on Broadway in February 1949, running for 742 performances.
setting
Late 1940s; Willy Loman's house; New York City and Barnaby River; Boston
characters
Willy Loman, Biff Loman, Linda Loman, Ben Loman
quotations

"Why am I trying to become what I don't want to be? "Pop! "I'm gonna show you and everybody else that Willy Loman did not die in vain. "I've got to get some seeds. "I don't know what the hell I'm workin' for. "I am not a leader of men, Willy, and neither are you.,"The jungle is dark but full of diamonds, Willy." "A small man can be just as exhausted as a great man." "I realized what a ridiculous lie my whole life has been." "I stopped in the middle of that building and I saw — the sky.

climax
Willy wants to continue with his self-deceptions about being successful, while Biff is exhausted with living a lie.
information

Playwright: Arthur Miller

Subject: The waning days of a failing salesman
Frequently Asked Questions about Death of a Salesman
Don't hesitate to contact us. We are ready to help you 24/7
What is the main message of Death of a Salesman?
The American Dream is the dominant theme, or main idea, in Death of a Salesman. Willy Loman's notions of the American Dream equate success with being well-liked. Likeability is an important quality for a salesman like Willy, yet he is unable to achieve the success he desires.
What are the true values in Death of a Salesman?
The true values which the play upholds are integrity, shown through other characters like Bernard and Charlie. One key understand that I've taken away from the play that relates to my own life is how the life lesson of integrity and thankfulness. I believe the Willy had a lot to be thankful and was successful.
What is so tragic in Death of a Salesman?
Willy's mistaken job as a salesman does not benefits him very much. ... His redemption of being a salesman prevents him from several chance of being more successful than his present job. This constitutes tragedy as Willy fails to accept his failure and create new dream.