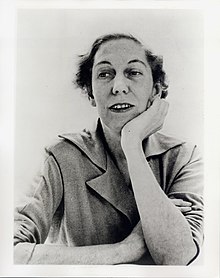 Eudora Welty
We found
5

free papers on Eudora Welty
An Evaluation of Criticism on Eudora Welty's "A Worn Path" Delta State University student, Susan Allen Ford, wrote a poem and entitled it "Chiromancy". Chiromancy is defined as the prediction of a person's future from the lines on the palms of his or her hands. Her poem expresses this journey of an African American woman…
born
April 13, 1909, Jackson, MS
died
July 23, 2001, Jackson, MS
description
Eudora Alice Welty was an American short story writer, novelist and photographer, who wrote about the American South. Her novel The Optimist's Daughter won the Pulitzer Prize in 1973. Welty received numerous awards, including the Presidential Medal of Freedom and the Order of the South.
books
The Optimist's Daughter 1972, One Writer's Beginnings 1984, The Collected Stories of Eudora Welty 1980
education
Columbia Business School (1930–1931)
quotations

"All serious daring starts from within." "A good snapshot keeps a moment from running away." "Indeed, learning to write may be part of learning to read.

information

Short biography of Eudora Welty

Eudora Welty was born in Jackson, Mississippi, on April 13, 1909, to Christian Webb Welty (1879–1931) and Mary Chestina (Andrews) Welty (1883–1966). Her mother's family, the Andrews family, had been residents of Mississippi since the mid-1700s. Eudora's paternal great-grandfather, James Welty, was the son of a German immigrant who had settled in Pennsylvania. Her father's family moved to Mississippi two generations before Eudora Welty was born.As a young child, Welty was drawn to stories and loved to listen to her elders tell them. When she was nine years old, she decided she wanted to be a writer. She began keeping a journal and writing stories.

After graduating from high school, Welty attended the Mississippi State College for Women (now Mississippi University for Women) from 1925 to 1927. She then transferred to the University of Wisconsin–Madison, where she studied advertising. She left the university after a year and returned to Mississippi.In 1929, Welty took a job as a secretary at the Jackson Municipal Airport. She continued to write and submitted her first story, "Death of a Traveling Salesman", to a contest in Scribner's Magazine. The story was not selected, but it encouraged her to keep writing.In 1931, Welty's father died, and she took a job as a part-time book reviewer for the Memphis Commercial Appeal. The following year, she moved to New York City, where she worked as a publicist for Doubleday, Doran & Company. She also took classes at Columbia University.

In 1933, Welty returned to Jackson and took a job as a reporter for the Jackson Daily News. The following year, she began working for the WPA Federal Writers' Project. She also continued to submit her work to magazines and contests.In 1936, Welty's story "A Worn Path" was published in The Atlantic Monthly. The story won first prize in a contest sponsored by the magazine. The following year, her story "Petrified Man" was published in Harper's Magazine.In 1941, Welty's first book, a collection of short stories titled A Curtain of Green, was published. The book was well-received and established Welty as a major talent.Welty's first novel, The Robber Bridegroom, was published in 1942. The novel was adapted into a Broadway play in 1975.In 1946, Welty's second novel, The Ponder Heart, was published. The novel was adapted into a play in 1954.Welty's third novel, Losing Battles, was published in 1970. The novel was adapted into a play in 1972.Welty's fourth novel, The Optimist's Daughter, was published in 1972.

General Essay Structure for this Topic

Eudora Welty's A Worn Path: An Overview
Eudora Welty's A Worn Path: A Literary Analysis
Eudora Welty's A Worn Path: A Critical Analysis
Eudora Welty's A Worn Path: A Comparative Analysis
Eudora Welty's A Worn Path: A Historical Analysis
Eudora Welty's A Worn Path: A Thematic Analysis
Eudora Welty's A Worn Path: An Interpretive Analysis
Eudora Welty's A Worn Path: A Struct

Important information

Awards: Pulitzer Prize for Fiction, PEN/Malamud Award

Parents: Christian Webb Welty, Mary Chestina Welty
Frequently Asked Questions about Eudora Welty
Don't hesitate to contact us. We are ready to help you 24/7
What is Eudora Welty style?
Her work explores both separateness of the individual and the healing potential of love. Welty's writing style varied, simply because she was in command of it. Her stories and novels could be seen as quaint and understated or else wonderfully strange and funny.
What was Eudora Welty's inspiration for the short story?
In 1941, "Why I Live at the P.O." was published in the Atlantic Monthly magazine and also appeared in her first story collection, A Curtain of Green and Other Stories. Welty was inspired to write the story after seeing an ironing board in a rural post office.
Why is Eudora Welty important?
Eudora Alice Welty (April 13, 1909 – July 23, 2001) was an American short story writer, novelist and photographer, who wrote about the American South. Her novel The Optimist's Daughter won the Pulitzer Prize in 1973. Welty received numerous awards, including the Presidential Medal of Freedom and the Order of the South.