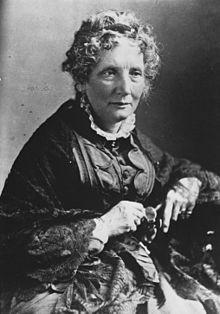 Harriet Beecher Stowe
We found
3

free papers on Harriet Beecher Stowe
Harriet Beecher Stowe
Slavery
Harriet Beecher Stowe was an American abolitionist and author, she wrote the novel" The Uncle Tom's Cabin " in 1851 shortly after the Congress passed The Fugitive Slave Law in 1850. At that time north and south were so culturally divided that made them seems like two countries, the novel gave the people in the…
Harriet Beecher Stowe
Religion
William Arthur Ward once said, "Real religion is a way of life, not a white cloak to be wrapped around us on the Sabbath and then cast aside into the six-day closet of unconcern. " Religion is the one thing that people can usually tolerate but never agree upon. Each faith seems to have an…
France
Harriet Beecher Stowe
Frances Wright and Harriet Beecher Stowe were both amazing women for their time.  Frances Wright was a white woman born and raised in Scotland.  Her parents passed away when she was very young and she was raised by her uncle, a philosophy professor.  As a young adult Frances traveled to the United States with her…
information

Short biography of Harriet Beecher Stowe

Harriet Elizabeth Beecher Stowe was born on June 14, 1811 in Litchfield, Connecticut. Her father, Lyman Beecher, was a well-known Congregational minister and an abolitionist. Her mother, Roxana Foote Beecher, died when Harriet was only five years old. Harriet was educated at the Hartford Female Seminary, and in 1832 she married Calvin Ellis Stowe, a seminary professor.Harriet and Calvin Stowe had seven children. Calvin was an ardent abolitionist, and his views had a profound impact on Harriet. In 1851, Harriet published Uncle Tom's Cabin; or, Life Among the Lowly, a novel about slavery in the American South. Uncle Tom's Cabin was an instant success, and it did much to raise public awareness about the evils of slavery.The Stowe family moved to Brunswick, Maine in 1853. Harriet continued to write, and she also became involved in the women's suffrage and temperance movements. Calvin Stowe died in 1886, and Harriet died on July 1, 1896.

General Essay Structure for this Topic

The life of Harriet Beecher Stowe
The impact of Harriet Beecher Stowe
The writing of Harriet Beecher Stowe
The family of Harriet Beecher Stowe
The childhood of Harriet Beecher Stowe
The education of Harriet Beecher Stowe
The marriage of Harriet Beecher Stowe
The anti-slavery work of Harriet Beecher Stowe
The Civil War and Harriet Beecher Stowe
Later years and legacy of Harriet Beecher Stowe
Frequently Asked Questions about Harriet Beecher Stowe
Don't hesitate to contact us. We are ready to help you 24/7
How did Harriet Beecher Stowe influence change?
In 1852, author and social activist Harriet Beecher Stowe popularized the anti-slavery movement with her novel Uncle Tom's Cabin. ... Stowe's novel became a turning point for the abolitionist movement; she brought clarity to the harsh reality of slavery in an artistic way that inspired many to join anti-slavery movements.
What did Harriet Beecher Stowe say about slavery?
Throughout his life, he clings to his steadfast Christian faith, even as he lay dying. Uncle Tom's Cabin's strong Christian message reflected Stowe's belief that slavery and the Christian doctrine were at odds; in her eyes, slavery was clearly a sin.
What is the main idea of Harriet Beecher Stowe?
In Uncle Tom's Cabin, Harriet Beecher Stowe shared ideas about the injustices of slavery, pushing back against dominant cultural beliefs about the physical and emotional capacities of black people. Stowe became a leading voice in the anti-slavery movementanti-slavery movementIn Western Europe and the Americas, abolitionism was a historic movement that sought to end the Atlantic slave trade and liberate the enslaved people. The British abolitionist movement started in the late 18th century when English and American Quakers began to question the morality of slavery. Abolitionism , and yet, her ideas about race were complicated.
Why is Harriet Beecher Stowe an important person in history?
Abolitionist author, Harriet Beecher Stowe rose to fame in 1851 with the publication of her best-selling book, Uncle Tom's Cabin, which highlighted the evils of slavery, angered the slaveholding South, and inspired pro-slavery copy-cat works in defense of the institution of slavery.