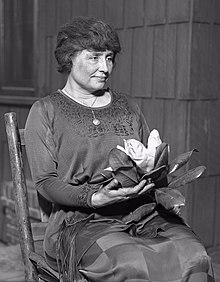 Helen Keller
We found
8

free papers on Helen Keller
Many necessities in life are taken for granted including food, water, and the human senses. Several individuals are robbed of their senses including touch, taste, sight, sound, and smell. This handicap is a burden for many; however, this causes them to be forced to adapt to this lifestyle. An individual, in particular, is Helen Keller….
information

Short biography of Helen Keller

Helen Keller was an American author, political activist, and lecturer. She was the first person to earn a bachelor of arts degree from Radcliffe College.Keller was born in Tuscumbia, Alabama, on June 27, 1880. When she was 19 months old, she contracted an illness (possibly scarlet fever or meningitis) which left her deaf and blind.Despite her disabilities, Keller was determined to live a full and productive life. With the help of her teacher, Annie Sullivan, she learned to communicate through sign language and Braille.Keller went on to graduate from Radcliffe College in 1904. She wrote a number of books, including The Story of My Life (1902), which detailed her incredible journey from darkness to light.Keller was also an advocate for the rights of people with disabilities. In 1915, she helped to establish the American Foundation for the Blind.She died on June 1, 1968, at the age of 87.

General Essay Structure for this Topic

The Early Years
The Miracle Worker
Life After The Miracle Worker
Keller's Educational Pursuits
Keller's Work as an Advocate
Keller's Later Years
Keller's Legacy
The Significance of Keller's Story
The Importance of Keller's Work
The Enduring Significance of Keller's Life
Frequently Asked Questions about Helen Keller
Don't hesitate to contact us. We are ready to help you 24/7
What is the moral of story Helen Keller?
She said, "Life is a succession of lessons which must be lived to be understood." Helen Keller taught us all that life's experiences – even those that are painful or scary – are what life is all about. Read More:
https://graduateway.com/life-being-deaf-and-blind/
What were Helen Keller's speeches about?
In her writings and speeches, Keller called for revolution rather than reform. She had no patience for compromise, and argued that charitable aid did more to assuage the guilt of the prosperous than to improve the conditions of vulnerable people's lives. Read More:
https://graduateway.com/helen-keller-is-a-quiet-hero/
Who was Helen Keller essay?
Helen Keller was a blind and deaf woman who was born and lived in Tuscumbia Alabama. She was born in 1880 and died in 1968. Keller was considered one of the world's leading humanitarians and was a famous author and activist. Her experiences from a small baby helped shape the person Helen Keller would later become. Read More:
https://graduateway.com/story-of-my-life-by-helen-keller-analysis/
Why is Helen Keller so inspiring?
She showed that Deaf and blind people deserved respect. She helped support various Deaf-Blind programs. Helen inspired people with disabilities because she was persistent. ... The organization printed books and music in braille and these books helped blind people so they could understand and learn new things.