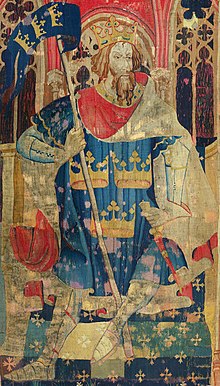 King Arthur
We found
12

free papers on King Arthur
King Arthur
Sir Gawain and The Green Knight
Comparing Lanval and Sir GawainStories of knights and their chivalry from the earlier centuries continue to enlighten us on how modern gentlemen must act. Looking closely at Lanval and Sir Gawain, these two knights are reflections of the positive human state of loyalty and honor."Lanval" is a popular lais of Marie de France, a French…
Show More
genre
Legend,Arthurian Romance,Chivalric romance
description
King Arthur was a legendary British leader who, according to medieval histories and romances, led the defence of Britain against Saxon invaders in the late 5th and early 6th centuries.
quotations

"For to die with honor is far better than to live disgraced." "'Father-Kay- why do you kneel to me? "To see evil and call it good, mocks God. "For it is better that we slay a coward than through a coward be all slain." " "Ready my knights for battle.

information

Wife: Guinevere

Movies and TV shows: Transformers: The Last Knight, Adventures of Sir Galahad

Parents: Uther Pendragon, Igraine, Sir Ector, King Lot

Horse: Llamrei (or Llamrai) is a horse of King Arthur. Welsh chronicles mention two names of horses owned by King Arthur. They are in the Tale of Culwich and Olwen. They attribute to Arthur a mare called Llamrei and another horse called Hengroen.,

Sister: Morgana, also called Morgaine or Morgan, is a staple figure of the Arthurian legend. Her relationship to Arthur varies but usually she is introduced as Arthur's half-sister, the daughter of his mother Igraine and her first husband Gorlois, the Duke of Cornwall.

Age: On Uther's death, the fifteen-year-old Arthur succeeds him as King of Britain and fights a series of battles, similar to those in the Historia Brittonum, culminating in the Battle of Bath.,
Frequently Asked Questions about King Arthur
Don't hesitate to contact us. We are ready to help you 24/7
Is King Arthur real essay?
What is the main idea of King Arthur?
Some of the themes from King Arthur's story are deception, trust, betrayal, and love. Some symbols from King Arthur's legend are The Holy Grail and the roundtable.