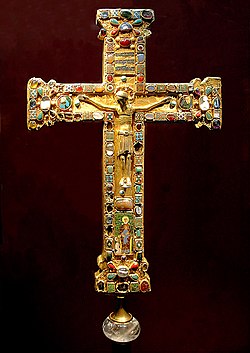 Medieval
We found
22

free papers on Medieval
Two great warrior classes from the past would soon collide within this paper. These two are the European Medieval Knights and the Japanese Samurai. Both of these warrior classes were highly regarded during the middle ages, which was a time period they shared on separate continents. Both were formidable elements on the battlefield, as they…
Show More
| | |
| --- | --- |
| description | In the history of Europe, the Middle Ages or medieval period lasted approximately from the 5th to the late 15th centuries, similarly to the Post-classical period of global history. It began with the fall of the Western Roman Empire and transitioned into the Renaissance and the Age of Discovery. |
| information | Location: Europe |
Frequently Asked Questions about Medieval
Don't hesitate to contact us. We are ready to help you 24/7
What is medieval period summary?
What is the concept of medieval?
With its roots medi-, meaning "middle", and ev-, meaning "age", medieval literally means "of the Middle Ages". In this case, middle means "between the Roman empire and the Renaissance"—that is, after the fall of the great Roman state and before the "rebirth" of culture that we call the Renaissance. Read More:
https://graduateway.com/medieval-pilgrimage-and-the-devotion-to-shrines/
What is the importance of medieval?
The geographical boundaries for European countries today were established during the Middle Ages. This was a period that heralded the formation and rise of universities, the establishment of the rule of law, numerous periods of ecclesiastical reform and the birth of the tourism industry. Read More:
https://graduateway.com/the-medieval-and-renaissance-musical-periods-essay/