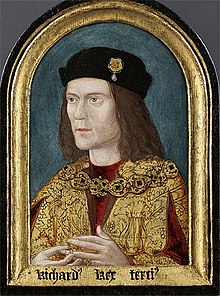 Richard Iii
We found
2

free papers on Richard Iii
During my comparative study of texts and context, I have examined the numerous connections between William Shakespeare's 'Richard the 3rd' and Al Pacino's 'Looking for Richard'. Since both works revolve around the character King Richard the 3rd, they understandably have many similarities. However, the aspect I have chosen to focus on is the concept of…
The historical play Richard III by William Shakespeare focuses on the character Richard III, also known as The Duke of Gloucester, who becomes king. Richard III is a complex and famous villainous character, characterized as ambitious, bitter, ugly, and deformed. Throughout the play, he manipulates and murders to obtain the throne. The opening speech sets…
born
October 2, 1452, Fotheringhay Castle
died
August 22, 1485, Ambion Hill, United Kingdom
description
Richard III was King of England and Lord of Ireland from 26 June 1483 until his death in 1485. He was the last king of the House of York and the last of the Plantagenet dynasty.
children
Edward of Middleham, Prince of Wales, Katherine Plantagenet, John of Gloucester
quotations

" "Now is the winter of our discontent, made glorious summer by this sun of York." "I cannot prove a lover." "So wise so young, they say do never live long." "With odd old ends stolen out of Holy Writ, and seem a saint when most I play the devil.",Read on below for the most well known Richard III quotes: Now is the winter of our discontent. Grim-visaged War hath smoothed his wrinkled front. This weak piping time of peace. And therefore, since I cannot prove a lover, Was ever woman in this humour wooed? Since every Jack became a gentleman.

information

Buried: March 26, 2015, Leicester Cathedral, Leicester, United Kingdom

Spouse: Anne Neville (m. 1472–1485)

Siblings: Edward IV of England, George Plantagenet, Duke of Clarence, Margaret of York

Nephews: Edward V of Englandvia Edward IV of England, Richard of Shrewsbury, Duke of Yorkvia Edward IV of England, Edward Plantagenet, 17th Earl of Warwickvia George Plantagenet, Duke of Clarence
Frequently Asked Questions about Richard Iii
Don't hesitate to contact us. We are ready to help you 24/7
Is Richard III a hero or villain?
Perhaps more than in any other play by Shakespeare, the audience of Richard III experiences a complex, ambiguous, and highly changeable relationship with the main character. Richard is clearly a villain—he declares outright in his very first speech that he intends to stop at nothing to achieve his nefarious designs. Read More:
https://graduateway.com/richard-iii-3/
What is the main theme of Richard III?
The main theme of Richard III is the conflict between evil and good, with Richard embodying all that is foul, including the ability to mask evil with a fair face. Although times are still unsettled, it is Richard's psychopathology, his mad, self-destructive drive for power that moves the play forward.
Why is Richard III so important?
He was the last king of the House of York and the last of the Plantagenet dynasty. His defeat and death at the Battle of Bosworth Field, the last decisive battle of the Wars of the Roses, marked the end of the Middle Ages in England. He is the protagonist of Richard III, one of William Shakespeare's history plays.
Why is Richard the Third evil?
The task which Shakespeare undertook was to mold the hateful constitution of Richard's Moral; character. Richard had to contend with the prejudices arising from his bodily deformity which was considered an indication of the depravity and wickedness of his nature. Shakespeare's Richard is a villain of pure and unapologetic evil, who enjoyed a Machiavellian rise to power. Unlike Vergil's Richard, who was plagued with guilt, Shakespeare's character delighted in his wickedness.