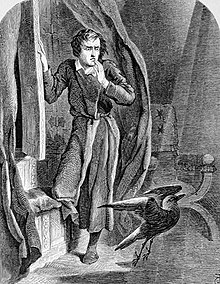 The Raven
We found
19

free papers on The Raven
Edgar Allan Poe
The Raven
During the Romantic Era, the Dark Romantics sought to oppose the ideas of the Transcendentalists, who believed in following one's own heart alone. A quintessential Dark Romantic, Edgar Allan Poe uses literary devices, the theme of death, and the creation of a paranoid mood to exemplify insanity and evil in humans. "The Raven," "The Fall…
Show More
Frequently Asked Questions about The Raven
Don't hesitate to contact us. We are ready to help you 24/7
What does The Raven symbolize explain?
The titular raven represents the speaker's unending grief over the loss of Lenore. Ravens traditionally carry a connotation of death, as the speaker himself notes when he refers to the bird as coming from "Night's Plutonian shore," or the underworld.
What is the message of The Raven?
The poem explores how grief can overcome a person's ability to live in the present and engage with society. Over the course of the poem, the speaker's inability to forget his lost love Lenore drives him to despair and madness.