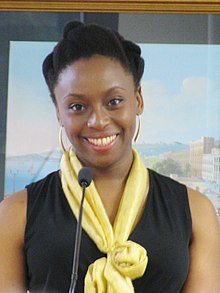 Chimamanda Ngozi Adichie
We found
9

free papers on Chimamanda Ngozi Adichie
Chimamanda Ngozi Adichie
Literature
Conflict in Purple Hibiscus * In the novel, Purple Hibiscus, Adichie clearly portrays the conflicting oppression of Kambili's patriarchal household – where she is ordered to follow a strict 'schedule' – to the realization of an almost 'holiday' like freedom she is exposed to when visiting Aunty Ifeoma and her family. * The author also…
information

Short biography of Chimamanda Ngozi Adichie

Chimamanda Ngozi Adichie (born September 15, 1977) is a Nigerian novelist, nonfiction writer and short story writer. She has written the novels Purple Hibiscus (2003), Half of a Yellow Sun (2006), and Americanah (2013), and the story collection The Thing around Your Neck (2009).Adichie was born in Enugu, Nigeria, and grew up the fifth of six children in an Igbo family in the university town of Nsukka in Enugu State. Her father, James Nwoye Adichie, was a professor of statistics at the University of Nigeria, and her mother, Grace Ifeoma, was the university's first female registrar.Adichie's family lived in a university staff quarters because her father worked at the university.

She has described her family as being "close-knit" and "supportive", and her parents as being "very strict" Christian parents.Adichie spent her childhood in the city of Enugu and the nearby small town of Ozo, both in Enugu State. She attended primary school at St. Paul's Primary School, Nsukka, and secondary school at the all-girls' Christ the King College (CKC), also in Nsukka.After reading Chinua Achebe's Things Fall Apart in high school, Adichie "became interested in writing stories" and "decided to become a writer". She attended the University of Nigeria, Nsukka, where she studied medicine and pharmacy.Adichie's first novel, Purple Hibiscus, was published in 2003. It received positive reviews from critics and won the Commonwealth Writers' Prize for Best First Book.Her second novel, Half of a Yellow Sun, was published in 2006 and won the Orange Prize for Fiction.Adichie's third book, Americanah, was published in 2013 and won the National Book Critics Circle Award.Adichie's short story collection, The Thing around Your Neck, was published in 2009.

Adichie is a contributing opinion writer for The New York Times.Adichie has been awarded honorary degrees from Yale University, Johns Hopkins University, Amherst College, and the University of Edinburgh.Adichie is a feminist and has been involved in various social and political causes. She is a member of the American Academy of Arts and Letters, and in 2017 she was honoured with the PEN Pinter Prize.

General Essay Structure for this Topic

Chimamanda Ngozi Adichie: A Writer Who Inspires
The Power of Adichie's Writing
Adichie's Writing as a Form of Activism
The Importance of Adichie's Work
Adichie's Writing as an Expression of Identity
The Connection Between Adichie's Writing and Her Personal Life
Adichie's Writing as a Tool for Understanding the World
The Influence of Adichie's Writing
Adichie's Writing as a Catalyst for Change
Adichie's Writing as a Source of Hope
Frequently Asked Questions about Chimamanda Ngozi Adichie
Don't hesitate to contact us. We are ready to help you 24/7
What does Chimamanda Ngozi Adichie warn us about the single story?
Novelist Chimamanda Adichie tells the story of how she found her authentic cultural voice -- and warns that if we hear only a single story about another person or country, we risk a critical misunderstanding.
What does Chimamanda Ngozi Adichie write about?
Chimamanda Ngozi Adichie is a writer and storyteller, best known for her themes of politics, culture, race, and gender. Her novels, short stories, and plays have all received both public and critical acclaim.
What happened to chimamanda?
He was 88 years old and died suddenly of complications of kidney disease. Adichie has just written an essay-length book called "Notes On Grief" to memorialize her father. Our book critic Maureen Corrigan has a review.
Where is Chimamanda Ngozi Adichie?
She has won several prestigious awards, including the Orange Prize, a National Book Critics Circle Award and a MacArthur Foundation fellowship. Chimamanda Ngozi Adichie was raised in Nigeria. She splits her time between Nigeria and the US, where she has a home here in MD.