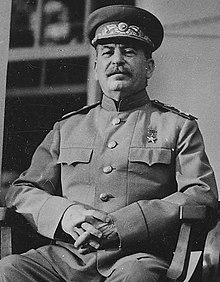 Joseph Stalin
We found
38

free papers on Joseph Stalin
Model Essay Why did Stalin take control of Eastern Europe? Plan IntroductionExplain Stalin's need for internal security in its historical context Block 1Discuss Stalin's tactic for gaining Eastern Europe and the wartime agreements that carved Europe up into 'spheres of influence', e. g. Tehran, 1943, Percentages Agreement, 1944. Discuss how tensions over Poland intensified Stalin's…
Show More
born
December 18, 1878, Gori, Georgia
died
March 5, 1953, Kuntsevo Dacha
description
Joseph Vissarionovich Stalin was a Georgian revolutionary and Soviet political leader who governed the Soviet Union from 1924 until his death in 1953. He served as both General Secretary of the Communist Party of the Soviet Union and Chairman of the Council of Ministers of the Soviet Union.
books
The Road to Power 1937, Economic Problems of Socialism in the USSR 1951, Dialectical and Historical Materialism 1938
children
Vasily Stalin, Svetlana Alliluyeva, Yakov Dzhugashvili, Alexander Davydov
quotations

Death is the solution to all problems. It is enough that the people know there was an election. I trust no one, not even myself. Ideas are more powerful than guns. Education is a weapon whose effects depend on who holds it in his hands and at whom it is aimed. The death of one man is a tragedy.

information

Full name: Joseph Vissarionovich Stalin

Spouse: Nadezhda Alliluyeva (m. 1919–1932), Kato Svanidze (m. 1906–1907)

GrandChildren: Olga Peters, Alexander Burdonsky, Joseph Alliluyev, Yekaterina Zhdanova
Frequently Asked Questions about Joseph Stalin
Don't hesitate to contact us. We are ready to help you 24/7
How did Joseph Stalin change the world?
Stalin forced rapid industrialization and the collectivization of agricultural land, resulting in millions dying from famine while others were sent to labor camps. His Red Army helped defeat Nazi Germany during World War II.
What are 3 facts about Joseph Stalin?
Born into poverty in 1879 to an alcoholic cobbler father and washerwoman mother, Stalin caught smallpox at the age of seven and was left with pockmarks on his face and a slightly deformed left arm. He was bullied by other children while also enduring beatings at the hands of his father.
What were Joseph Stalin's ideas?
It included the creation of a one-party totalitarian police state, rapid industrialization, the theory of socialism in one country, collectivization of agriculture, intensification of the class struggle under socialism, a cult of personality, and subordination of the interests of foreign communist parties to those of ...
Why is Joseph Stalin important in history?
From 1928 until his death in 1953, Joseph Stalin ruled the Soviet Union as a dictator, transforming the country from an agrarian peasant society into a global superpower. The cost was tremendous, however: Stalin was responsible for the deaths of millions of Soviet citizens.