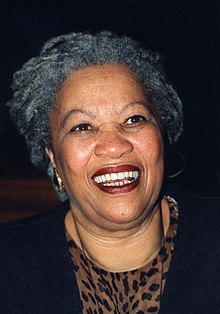 Toni Morrison
We found
10

free papers on Toni Morrison
Books
Literature
Toni Morrison
In Toni Morrison's novel, Sula, many deaths has occurred which impacted society and their decision to how they want to handle each person's death. The novel uses the duality of apathetic and sympathetic to compare society's reaction to the different deaths that took place in the bottom land. Society was more drawn to a specific…
information

Short biography of Toni Morrison

Toni Morrison was born Chloe Anthony Wofford on February 18, 1931, in Lorain, Ohio, where she grew up. Her parents, Ramah and George Wofford, were both born in Greenville, Alabama, and moved north to Ohio in the 1920s in search of work. They settled in the predominantly black town of Lorain, where they raised their four children.Morrison's father worked as a welder at the local steel mill, and her mother was a domestic worker.

The Woffords instilled in their children a love of learning and a strong sense of self-reliance.Morrison attended Lorain High School, where she was one of the few black students. She was an excellent student and graduated valedictorian of her class in 1949.After high school, Morrison attended Howard University in Washington, D.C., where she studied English and philosophy. She graduated with honors in 1953.After college, Morrison married Harold Morrison, a Jamaican architect. The couple had two sons, Harold and Ford. The marriage ended in 1964, and Morrison moved to New York City with her sons.In New York, Morrison worked as an editor at Random House, where she edited books by African-American authors. She also began working on her own writing, and in 1970 she published her first novel, The Bluest Eye.Morrison's second novel, Sula, was published in 1973. It was followed by Song of Solomon in 1977, which won the National Book Critics Circle Award.In 1987, Morrison published her most famous novel, Beloved. The book, which is set in the years following the Civil War, tells the story of a mother who kills her child rather than allow her to be taken back into slavery.Beloved won the Pulitzer Prize for fiction in 1988, and Morrison became the first African-American author to win the award.In 1993, Morrison was awarded the Nobel Prize in Literature, becoming the first African-American woman to receive the honor.Morrison has published several other novels, including Paradise (1998), Love (2003), and A Mercy (2008). She has also written a play, several children's books, and a number of essays.In 2012, Morrison was awarded the Presidential Medal of Freedom, the highest civilian honor in the United States.Toni Morrison died on August 5, 2019, at the age of 88.

General Essay Structure for this Topic

Introduction to Toni Morrison's Beloved
Themes and Symbols in Beloved
The Character of Sethe in Beloved
The Character of Denver in Beloved
The Character of Beloved in Beloved
The Significance of the Title Beloved
The Importance of Memory in Beloved
The Role of Slavery in Beloved
The Use of Magic realism in Beloved
Critical Reception of Beloved
Frequently Asked Questions about Toni Morrison
Don't hesitate to contact us. We are ready to help you 24/7
How did Toni Morrison change the world?
As example and inspiration, Morrison paved the way for and encouraged countless writers who might otherwise have felt there was no place for people like them in the pantheon of American literature. ... In the 1980s, before her coronation as the grande dame of American letters, her books electrified readers. Toni Morrison was an American novelist, essayist, book editor, and college professor who wrote multiple novels, children's books, short stories, plays, and essays that would change the literary world forever.
How would you describe Toni Morrison's writing?
Morrison's writings concentrate on rural Afro-American communities and on their cultural inheritance, which she explores with cold-blooded detail and vivid vocabulary. Her intricate writing style does not just tell the reader about issues concerning African-Americans instead she shows them.
What is the main idea of Toni Morrison?
The central theme of Morrison's novels is the Black American experience; in an unjust society, her characters struggle to find themselves and their cultural identity. Her use of fantasy, her sinuous poetic style, and her rich interweaving of the mythic gave her stories great strength and texture.
What is the message of the work you do the person you are?
In "The Work You Do, The Person You Are," Morrison writes about the pride she took in contributing to her family's income from a young age. She earned $2 in exchange for doing housework after school for a well-to-do woman, and Morrison's perspective about her standing in her own household expanded through that work.