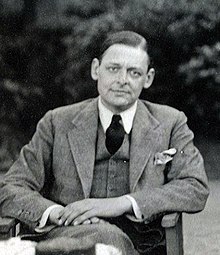 T.S. Eliot
We found
10

free papers on T.S. Eliot
Modernism was the cultural movement in which innovation and experimentation of art and literature was celebrated and explored as a reaction against the formality and optimism of the preceding Victorian period. Thomas Stearns Eliot was a Modernist literary figure who contributed significantly to the movement in the early to mid 1900s. In Eliot's "Preludes" and…
born
September 26, 1888, St. Louis, MO
died
January 4, 1965, Kensington, London, United Kingdom
description
Thomas Stearns Eliot OM was a poet, essayist, publisher, playwright, literary critic and editor. Considered one of the 20th century's major poets, he is a central figure in English-language Modernist poetry.
books
The Waste Land 1922, The Love Song of J. Alfred Prufrock 1915, Poems 1919
quotations

April is the cruellest month'. 'This is the way the world ends'. 'A cold coming we had of it'. 'In my beginning is my end'. 'Human kind cannot bear very much reality'. 'I will show you fear in a handful of dust'. 'I have measured out my life with coffee spoons'.

information

Short biography of T.S. Eliot

T.S. Eliot, who wrote the lyrics to "The Waste Land," was born in 1888 in St. Louis, Missouri, to a family of New Englanders with roots in Massachusetts, who had moved westward several generations before. His mother, Charlotte Champe Stearns, was a former teacher and a social worker, who founded the Ward School for Girls in St. Louis. His father, Henry Ware Eliot, was a businessman and a president of the Hydraulic-Press Brick Company. Eliot was educated at Smith Academy, a private school for boys in St. Louis, followed by Milton Academy, a preparatory school near Boston, and then Harvard University, from which he received B.A. and M.A. degrees.Eliot began writing poetry while still a student at Milton Academy, and his first publication came in 1909, when he was twenty-one, with "A Fable for Feasters" in The Harvard Advocate. After graduating from Harvard, he studied philosophy at Merton College, Oxford, from which he received a B.Litt. degree in 1915. During his years in England, he became friends with Ezra Pound, who was to play an important role in his career, and with E. E. Cummings.

In 1915, he began working as a schoolteacher, first in High Wycombe and then in Hampstead, a suburb of London. In 1917, he married Vivien Haigh-Wood, an Englishwoman whom he had met while still a student at Oxford; the marriage was not a happy one, and both Eliot and Vivien suffered from poor health. In 1925, Eliot converted to Anglicanism, and in 1927 he became a British citizen.In 1922, Eliot published The Waste Land, a long poem that was to make him famous. The poem was based on notes that he had been collecting for several years, and it was inspired in part by the breakdown of his marriage and by the suicides of his friends, Siegfried Sassoon and Wilfred Owen, during World War I. The poem was published with notes by Eliot and Pound, and it quickly established Eliot's reputation as one of the most important poets of his generation.In the 1920s, Eliot became increasingly interested in the theater, and he wrote a number of plays, both in verse and in prose, several of which were produced in London and New York. He also wrote criticism, and in 1919, he published "Tradition and the Individual Talent," an essay that is now considered one of the most important statements of literary modernism. In 1925, he joined the staff of Faber and Faber, a London publishing house, and he remained there for the rest of his life.In 1930, Eliot published Ash-Wednesday, a long poem that marked a change in his style, moving away from the fragmented, colloquial style of The Waste Land toward a more formal, meditative style

Important information

Spouse: Valerie Eliot (m. 1957–1965), Vivienne Haigh-Wood Eliot (m. 1915–1947)

Siblings: Margaret Dawes Eliot, Marian Cushing Eliot, Ada Sheffield, Theodora Sterling Eliot

Parents: Henry Ware Eliot, Charlotte Champe Stearns
Frequently Asked Questions about T.S. Eliot
Don't hesitate to contact us. We are ready to help you 24/7
What is Eliot's concept of tradition?
Tradition, according to Eliot, is that part of living culture inherited from the past and functioning in the formation of the present. Eliot maintains that tradition is bound up with historical sense, which is a perception that the past is not something lost and invalid.
What is T.S. Eliot most known for?
Eliot was an American-English poet, playwright, literary critic, and editor. He is best known as a leader of the Modernist movement in poetry and as the author of such works as The Waste Land (1922) and Four Quartets (1943).