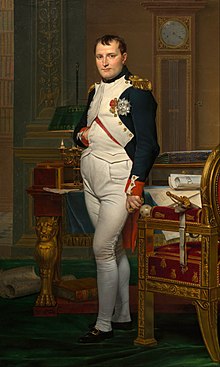 Napoleon
We found
25

free papers on Napoleon
Introduction The highly influential Napoleonic Code, which was formed under Napoleon I, was drafted and implemented on 21 March 1804.  While it was preceded by three legal codes in European history—in Bavaria, Prussia, and Galicia, all in the mid- to late 1700s—the Napoleonic code is acknowledged as the first legal success in law code, and…
Show More
born
August 15, 1769, Ajaccio, France
died
May 5, 1821, Museu Casa de Longwood, Longwood, Saint Helena, Ascension and Tristan da Cunha
description
Napoléon Bonaparte, usually referred to as simply Napoleon in English, was a French military and political leader who rose to prominence during the French Revolution and led several successful campaigns during the Revolutionary Wars. He was the de facto leader of the French Republic as First Consul from 1799 to 1804.
books
An Autobiography of the Emperor 1931
children
Napoleon II, Eugène de Beauharnais, Hélène Napoleone Bonaparte, Charles Léon
quotations

Never interrupt your enemy when he is making a mistake. Ten people who speak make more noise than ten thousand who are silent. Glory is fleeting, but obscurity is forever. In politics stupidity is not a handicap. Religion is what keeps the poor from murdering the rich.

information

Height: 5′ 6″

Buried: December 15, 1840, Les Invalides, Paris, France

Spouse: Marie Louise, Duchess of Parma (m. 1810–1821)
Frequently Asked Questions about Napoleon
Don't hesitate to contact us. We are ready to help you 24/7
Who was Napoleon simple words?
Napoleon Bonaparte (French: Napoléon Bonaparte) was a French politician and army leader who ruled France from 1799 to 1814 and for a short period (the "Hundred Days") in 1815. He became Emperor of the French and King of Italy as Napoleon I.
Why is Napoleon the best leader?
He transformed the way in which the French army operated and turned France into the greatest military power in Europe. His confidence and ambition inspired his troops, and their victories brought glory to France. Napoleon saved France from the chaos of the French Revolution.
Why was Napoleon so important?
Napoleon Bonaparte was a French military general, the first emperor of France and one of the world's greatest military leaders. Napoleon revolutionized military organization and training, sponsored the Napoleonic Code, reorganized education and established the long-lived Concordat with the papacy.