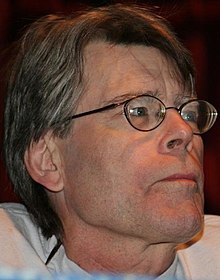 Stephen King
We found
24

free papers on Stephen King
People cry for endless amounts of reasons: pain, sadness, sickness, and even happiness. In The Body by Stephen King, a motif of crying is used throughout the novella. Teddy is moved to tears when someone insults his father. Chris cries because he realizes he cannot be a hero. Gordie has tears because he ultimately realizes…
Show More
born
September 21, 1947 (age 74 years), Portland, ME
description
Stephen Edwin King is an American author of horror, supernatural fiction, suspense, crime, science-fiction, and fantasy novels. His books have sold more than 350 million copies, and many have been adapted into films, television series, miniseries, and comic books.
books
It 1986, The Stand 1978, The Shining 1977
children
Joe Hill, Naomi King, Owen King
quotations

The trust of the innocent is the liar's most useful tool. Monsters are real, and ghosts are real too. Life is like a wheel. People think that I must be a very strange person. Get busy living, or get busy dying. Talent is cheaper than table salt.,"Books are a uniquely portable magic." "If you don't have time to read, you don't have the time (or the tools) to write. "Get busy living or get busy dying." "Books are the perfect entertainment: no commercials, no batteries, hours of enjoyment for each dollar spent.

information

Short biography of Stephen King

Stephen King is a famous American author, who is best known for writing horror and suspense novels and stories. King was born on September 21, 1947 in Portland, Maine. His father worked as a merchant seaman, and his mother was a homemaker. King's parents divorced when he was a young child, and he and his brother, David, were raised by their mother. When King was eleven years old, his family moved to Durham, Maine, where he attended grammar school and high school.King began writing stories when he was in high school, and he sold his first professional story, "The Glass Floor," to Startling Mystery Stories magazine in 1967. After graduating from high school, King attended the University of Maine, where he earned a Bachelor of Arts degree in English in 1970. He married Tabitha Spruce in 1971, and the couple had three children: Naomi, Joe, and Owen.

King's first novel, Carrie, was published in 1974. The book was highly successful, and was made into a movie in 1976. King's second novel, 'Salem's Lot, was published in 1975. Like Carrie, 'Salem's Lot was also made into a movie, in 1979.King's third novel, The Shining, was published in 1977. The Shining was made into a movie in 1980, directed by Stanley Kubrick. King was not happy with the movie, and he later wrote a novel, The Shining (1997), which was a sequel to the original book. The Shining was also made into a television mini-series in 1997, which was more faithful to King's original story.In 1978, King published Firestarter, which was made into a movie in 1984. In 1979, King published The Dead Zone, which was made into a movie in 1983. In 1980, King published Cujo, which was made into a movie in 1983. In 1981, King published The Dark Tower: The Gunslinger, the first book in his epic fantasy series The Dark Tower. The Dark Tower series would eventually span eight books, and would be made into a movie, television series, and video game.In 1982, King published Different Seasons, a collection of four novellas, two of which, "Rita Hayworth and Shawshank Redemption" and "Apt Pupil," were made into movies in 1994 and 1998, respectively. In 1983, King published Christine, which was made into a movie in 1983. In 1984, King published Cycle of the Werewolf, which was made into a movie in 1985.In 1986, King published It, which was made into a movie in 1990. In 1987, King published The Eyes of the Dragon, which was not made into a movie. In 1988, King published Misery, which was made into a movie in 1990. In 1989, King published The Dark Half, which was made into a movie in 1993.In 1991

General Essay Structure for this Topic

The Importance of Stephen King's On Writing
The Uniqueness of Stephen King's On Writing
The Power of Stephen King's On Writing
The Insight of Stephen King's On Writing
The Significance of Stephen King's On Writing
The Originality of Stephen King's On Writing
The Genius of Stephen King's On Writing
The Prowess of Stephen King's On Writing
The Majesty of Stephen King's On Writing
The Splendour of Stephen King's On Writing

Important information

Spouse: Tabitha King (m. 1971)

TV shows: Chapelwaite, Castle Rock, The Stand, Rose Red, The Shining, Storm of the Century

Short stories: 1922, 1408, The Mist, Rita Hayworth and Shawshank Redemption, Jerusalem's Lot
Frequently Asked Questions about Stephen King
Don't hesitate to contact us. We are ready to help you 24/7
What is the message of it Stephen King?
Is Stephen King easy to read?
King is an amazing storyteller, and the short story distills that into its purest form. ... I have only read a few Stephen King books but Cujo and The Girl Who Loved Tom Gordon were probably the two easiest I've read from him. They aren't really supernatural horror though, if that's what you were looking for. Read More:
https://graduateway.com/stephen-king-essay-research-paper-stephen-kingstephen/
How many hours a day does Stephen King write?
King's formula for learning to write well is: "Read and write four to six hours a day. If you cannot find the time for that, you can't expect to become a good writer." He sets out each day with a quota of 2000 words and will not stop writing until it is met.
What writing is Stephen King thesis?
THESIS STATEMENT: In On Writing: A memoir of the Craft, Stephen King shows how passionate he is about the art of writing by teaching his readers how to write; he also tries to transmit that passion by making them see through his eyes, which helps the readers understand the importance of the written word. I.