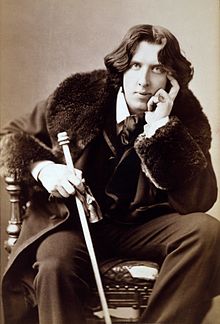 Oscar Wilde
We found
9

free papers on Oscar Wilde
"The Happy Prince and Other Tales" -Oscar Wilde Oscar Fingal O'Flahertie Wills Wilde (16 October 1854 – 30 November 1900) was an Irish playwright, poet and author of numerous short stories and one novel. Known for his biting wit, he became one of the most successful playwrights of the late Victorian era in London, and…
Show More
born
October 16, 1854, Westland Row, Dublin, Ireland
died
November 30, 1900, Paris, France
description
Oscar Fingal O'Flahertie Wills Wilde was an Irish poet and playwright. After writing in different forms throughout the 1880s, he became one of the most popular playwrights in London in the early 1890s.
children
Cyril Holland, Vyvyan Holland
movies
Dorian Gray, The Picture of Dorian Gray, Wilde, The Importance of Being Earnest
quotations

Man is least himself when he talks in his own person. I can resist everything except temptation.""A man's face is his autobiography. "True friends stab you in the front.""Always forgive your enemies; nothing annoys them so much.","Be yourself; everyone else is already taken." "To live is the rarest thing in the world. "Always forgive your enemies; nothing annoys them so much." "I am so clever that sometimes I don't understand a single word of what I am saying."

information

Short biography of Oscar Wilde

The Oscar Wilde writers biography tells the story of the famous Irish writer, from his early years in Dublin, through his time at Oxford, up to his death in Paris.Oscar Wilde was born in Dublin, Ireland, on October 16, 1854, to Sir William Wilde and his wife, Jane Wilde. As a child, Wilde was educated at home by tutors and his parents, who were both well-educated and had a great love of literature. Wilde attended Trinity College, Dublin, where he studied classics and developed a love of ancient Greek and Roman culture. He then went on to study at Magdalen College, Oxford, where he became known for his flamboyant dress and wit.Wilde graduated from Oxford in 1878 and began working as a journalist. He also wrote several plays, including The Importance of Being Earnest, which was first performed in 1895. Wilde married Constance Lloyd in 1884 and they had two sons, Cyril and Vyvyan.Wilde's personal life caused scandal when he began a relationship with Lord Alfred Douglas, the son of the Marquess of Queensberry. The Marquess publicly accused Wilde of homosexuality, which was a crime in Victorian England. Wilde sued the Marquess for libel, but the case was dismissed and Wilde was then arrested and charged with gross indecency. He was found guilty and sentenced to two years in prison.Wilde was released from prison in 1897 and went into exile in France. He died in Paris on November 30, 1900.

General Essay Structure for this Topic

The life and work of Oscar Wilde
The importance of Wilde's work
Wilde's place in literary history
The reception of Wilde's work
The impact of Wilde's work
The legacy of Wilde's work
The influence of Wilde's work
Wilde's work in the context of his time
Wilde's work in the context of today
The relevance of Wilde's work

Important information

Spouse: Constance Lloyd (m. 1884–1898)
Frequently Asked Questions about Oscar Wilde
Don't hesitate to contact us. We are ready to help you 24/7
Did Oscar Wilde write essays?
What is Oscar Wilde's most famous writing?
Oscar Wilde's literary reputation rests largely on his novel The Picture of Dorian GrayThe Picture of Dorian GrayThe Picture of Dorian Gray, moral fantasy novel by Irish writer Oscar Wilde, published in an early form in Lippincott's Monthly Magazine in 1890. ... The work, an archetypal tale of a young man who purchases eternal youth at the expense of his soul, was a romantic exposition of Wilde's own Aestheticism.The Picture of Dorian Gray | Summary, Legacy, & Facts (1891) and on his masterful comedies of manners Lady Windermere's Fan (1892) and The Importance of Being Earnest (1895). He was also known for his wit, his flamboyance, and his trials and jail sentence for homosexual acts. Read More:
https://graduateway.com/comparison-of-two-plays/
What was Oscar Wilde's philosophy?