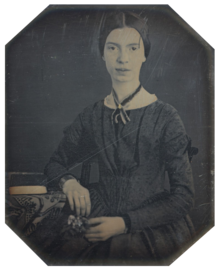 Emily Dickinson
We found
37

free papers on Emily Dickinson
Emily Dickinson
William Wordsworth
Creation William Wordsworth and Emily Dickinson may be considered "nature" poets in that each of these writers sought to find symbols and themes in nature which could be used to express emotions and idea which related to the human psyche. Both poets perceived a connection between the human soul and nature. In Dickinson's poem "The Brain…
Show More
born
December 10, 1830, Amherst, MA
died
May 15, 1886, Amherst, MA
description
Emily Elizabeth Dickinson was an American poet. Little-known during her life, she has since been regarded as one of the most important figures in American poetry. Dickinson was born in Amherst, Massachusetts into a prominent family with strong ties to its community.
books
Poems 1890, The complete poems 1955, "Hope" is the thing with feathers 1891
education
Amherst Academy (1840–1847), Mount Holyoke College
quotations

"Hope is the thing with feathers that perches in the soul – and sings the tunes without the words – and never stops at all." "I dwell in possibility." "Unable are the loved to die, for love is immortality." "That it will never come again is what makes life sweet."

information

Short biography of Emily Dickinson

Emily Dickinson was a great American poet who has made a large contribution to the literary world. She was born on December 10, 1830, in Amherst, Massachusetts. Her parents were Edward Dickinson and Emily Norcross. As a child, she was educated at Amherst Academy. After she graduated, she attended Mount Holyoke Female Seminary. However, she did not like the rules and regulations of the school, so she left and returned home after only one year.Dickinson had a quiet character. She liked to stay at home, and she rarely socialized with other people. Instead, she spent most of her time reading and writing poetry. She was also a very religious person.Dickinson's poetry is characterized by its short length and its use of simple language.

However, despite its simplicity, her poems are very deep and meaningful. She often wrote about death and immortality.Dickinson did not publish any of her poems during her lifetime. In fact, she only shared them with a few close friends. After her death, her sister found a large number of her poems and published them.Dickinson's poetry has been praised by many critics. She is considered to be one of the most important American poets.

General Essay Structure for this Topic

Themes in Emily Dickinson's Poetry
Emily Dickinson's Use of Language
Emily Dickinson's Poetic Forms
Emily Dickinson's Treatment of Nature
Emily Dickinson's Attitude to Death
Emily Dickinson's Religious Beliefs
Emily Dickinson's Relationship to the Domestic Sphere
Emily Dickinson's Place in the Literary Canon
Emily Dickinson's Critical Reception
Emily Dickinson's Legacy

Important information

Siblings: William Austin Dickinson, Lavinia Norcross Dickinson

Parents: Edward Dickinson, Emily Norcross Dickinson
Frequently Asked Questions about Emily Dickinson
Don't hesitate to contact us. We are ready to help you 24/7
How did Emily Dickinson's life influence her writing?
Dickinson's poetry was heavily influenced by the Metaphysical poets of seventeenth-century England, as well as her reading of the Book of Revelation and her upbringing in a Puritan New England town, which encouraged a Calvinist, orthodox, and conservative approach to Christianity. Read More:
https://graduateway.com/emily-dickinson-and-uncle-walt-essay-essay/
What are the main themes in Emily Dickinson poetry?
Emily Dickinson had many major themes in her writing. These themes include: religion, death, home and family, nature and love. Religion: Emily Dickinson was a religious person; religion is brought up many times in her poems. Read More:
https://graduateway.com/poetry-as-a-way-out/
What did Emily Dickinson write about?
Like most writers, Emily Dickinson wrote about what she knew and about what intrigued her. A keen observer, she used images from nature, religion, law, music, commerce, medicine, fashion, and domestic activities to probe universal themes: the wonders of nature, the identity of the self, death and immortality, and love. Read More:
https://graduateway.com/because-i-could-not-stop-for-death/
What is Emily Dickinson most famous poem?
The most famous poem by Dickinson, "Hope is the Thing with Feathers" is ranked among the greatest poems in the English language. It metaphorically describes hope as a bird that rests in the soul, sings continuously and never demands anything even in the direst circumstances.