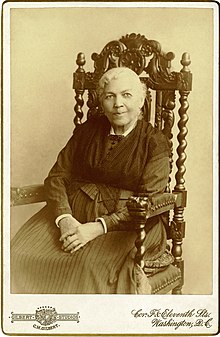 Harriet Jacobs
We found
8

free papers on Harriet Jacobs
In this essay ill write about slavery times. In the 1800 slave were of all ages. Harriet Jacobs was a young girl and was a slave. I will explain What was life like for Harriet Jacobs as a young slave girl in the south? How did Dr. Flint, his wife, and Harriet's mother influence her…
information

Short biography of Harriet Jacobs

Harriet Jacobs was born in Edenton, North Carolina, in 1813, the daughter of Elijah Jacobs, a skilled carpenter and slave, and Delilah, a house slave. Jacobs was raised as a house servant and taught to read and write by her mistress. When she was sixteen, she was sent to the household of her mistress's brother, Dr. Robert Norcom, in Edenton.Norcom was a cruel master who frequently sexually harassed his female slaves. In 1835, Jacobs became the mistress of Norcom's neighbor, Samuel Tredwell Sawyer. Sawyer was a relatively kind master, and Jacobs bore him two children, Joseph and Louisa.In 1838, Norcom demanded that Jacobs return to his household. When she refused, he had her jailed. Jacobs managed to escape from jail and hid in a small crawlspace in her grandmother's attic. She remained in hiding for seven years, until she was able to escape to the North.Jacobs published her autobiography, Incidents in the Life of a Slave Girl, in 1861, under the pseudonym Linda Brent. The book was an immediate bestseller and helped to raise awareness of the plight of slaves. Jacobs settled in Washington, D.C., where she worked as a teacher and a nurse. She died in 1897.

General Essay Structure for this Topic

Harriet Jacobs and the Civil War: A Brief Overview
The Life of Harriet Jacobs Before the Civil War
Harriet Jacobs and the Impact of the Civil War on Her Life
Harriet Jacobs' Civil War Experiences
Harriet Jacobs and the Abolitionist Movement
Harriet Jacobs After the Civil War
The Legacy of Harriet Jacobs
The Significance of Harriet Jacobs' Story
The Importance of Harriet Jacobs in American History
Harriet Jacobs and the Civil War: An Analysis
Frequently Asked Questions about Harriet Jacobs
Don't hesitate to contact us. We are ready to help you 24/7
How did Harriet Jacobs work to end slavery?
Harriet was actively involved with the abolition movementabolition movementOwen Brown (abolitionist, born 1771)Owen Brown (abolitionist, born 1771) before the launch of the Civil War. During the war she used her celebrity to raise money for black refugees. After the war she worked to improve the conditions of the recently-freed slaves.
How was Harriet Jacobs abused?
Harriet suffered abuse and violence at the hands of her master James Norcom, who began sexually harassing and abusing Harriet when she was 12 years old. The abuse continued through much of her adolescence. ... Harriet later became an abolitionist and reformer who escaped slavery and bondage.
What is the significance of Harriet Jacobs?
Harriet Ann Jacobs was an African American who escaped slavery, was an influential abolitionist and ardent educator. She also wrote the first autobiography on the atrocities experienced by female slaves.
What rhetorical strategies does Harriet Jacobs use?
Jacobs uses rhetorical questioning, an appeal to other social constructs, intentional play between representation and silence, and paradox as narrative strategies deliberately employed not only to challenge the institution of slavery but also to question the racial and gender oppression inherent in the institution.