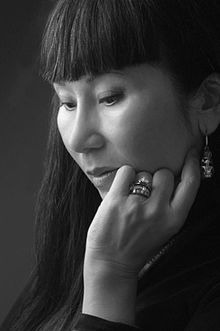 Amy Tan
We found
27

free papers on Amy Tan
Introduction             Utilizing the perceptions in the context of the story that mirror the mixture of American-Chinese living, Amy Tan is the type of author who emphasizes the relationship between a Chinese mother and her Americanized daughter in the plot of her short story A Pair of Tickets. The story attempts at giving an enlightening…
Show More
born
February 19, 1952 (age 69 years), Oakland, CA
description
Amy Ruth Tan is an American author known for the novel The Joy Luck Club, which was adapted into a film of the same name in 1993 by director Wayne Wang.
books
The Joy Luck Club 1989, The Kitchen God's Wife 1991, The Bonesetter's Daughter 2001
education
Linfield University, San José State University, Peterson High School
quotations

"We dream to give ourselves hope. "If you can't change your fate, change your attitude." "Writing what you wished was the most dangerous form of wishful thinking." "Chance is the first step you take, luck is what comes afterward." "Everyone must dream. "Then you must teach my daughter this same lesson.

information

Spouse: Lou DeMattei (m. 1974)

Parents: Daisy Li, John Tan

Siblings: John Tan Jr., Peter Tan, Yuhang Wang, June Wang, Tina Eng, Lijun Wang

Movies and TV shows: The Joy Luck Club 1993, Amy Tan: Unintended Memoir 2021, Sagwa The Chinese Siamese Cat 2001 – 2002
Frequently Asked Questions about Amy Tan
Don't hesitate to contact us. We are ready to help you 24/7
What is the text mother tongue by Amy Tan all about?
Tan relates her story of her mother talking about a gangster that wanted her family in China to adopt him because her family had more status. She tells us the story using her mother's language so we can see how expressive her mother's broken English is. Read More:
https://graduateway.com/stories-of-amy-tan-and-fannie-flag/
What is Tan's purpose in writing this essay?
What is the main idea of mother tongue by Amy Tan?
The main idea of Amy Tan's "Mother Tongue" is the limitations that imperfect English can impose in society and the richness that such English can bring to writing. Tan elaborates this idea by scrutinizing her mother's language, her own use of English and society's response to different people's English usage.
What is Amy Tan trying to say in mother tongue?
When she isn't speaking proper English, she speaks what she likes to call her mothers tongue. She talks about how import this type of language is to her family and says, "It has become our language of intimacy, a different sort of English that relates to family talk, the language I grew up with" (Tan, 59).