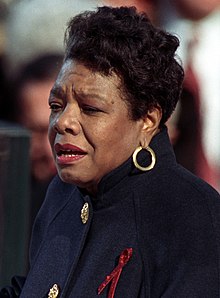 Maya Angelou
We found
20

free papers on Maya Angelou
Grandmother's Victory was written by Maya Angelou. This story was about Maya Angelou as a young girl who lived in the state of Arkansas with her grandmother, whom she called "Mama", in the 1940's. Maya's grandmother was a very clean God fearing woman. She taught her grandchildren to be clean, religious, respectful, and God fearing…
Show More
born
April 4, 1928, St. Louis, MO
died
May 28, 2014, Winston-Salem, NC
description
Maya Angelou was an American poet, memoirist, and civil rights activist. She published seven autobiographies, three books of essays, several books of poetry, and is credited with a list of plays, movies, and television shows spanning over 50 years. She received dozens of awards and more than 50 honorary degrees.
books
I Know Why the Caged Bird Sings 1969, And Still I Rise 1978, The Complete Collected Poems of Maya Angelou 1994
education
California Labor School, George Washington High School
children
Guy Johnson
information

Short biography of Maya Angelou

Maya Angelou was born as Marguerite Ann Johnson on April 4, 1928, in St. Louis, Missouri. When she was only three years old, her parents' marriage ended, and Maya and her brother, Bailey, went to live with their grandmother in the small town of Stamps, Arkansas. Angelou was raised in the church and credits its influence for her lifelong love of music and literature.In 1944, Angelou dropped out of high school and moved to San Francisco to live with her mother. There she worked as a waitress and began to write poetry. Her first big break came in the form of a part in the play, "Calypso Heat Wave," which led to work as a nightclub singer and dancer.In 1951, Angelou married a Greek sailor, Tosh Angelos, and had a son, Guy.

The marriage did not last, and Angelou soon became involved in the civil rights movement. In 1957, she met Martin Luther King, Jr. and began working for him.In 1960, Angelou moved to Ghana, where she worked as a journalist and taught at the University of Ghana. While living in Ghana, she met Malcolm X and worked with him on his autobiography.In 1964, Angelou returned to the United States, and her son Guy came to live with her. The following year, she published her first book, "I Know Why the Caged Bird Sings," which made her a celebrated writer.Over the next few decades, Angelou wrote several more books of poetry and prose, including "Gathering Together" (1982), "All God's Children Need Traveling Shoes" (1986), and "A Song Flung Up to Heaven" (2002). She also worked as a professor, and in 1993, she read her poem "On the Pulse of Morning" at President Bill Clinton's inauguration.Angelou died on May 28, 2014, at the age of 86.

General Essay Structure for this Topic

Introduction
Early life and family
Education
Career
Maya Angelou as an author
Maya Angelou as an actress
Maya Angelou as a civil rights activist
Themes in Maya Angelou's work
Critical reception of Maya Angelou's work
Legacy

Important information

Spouse: Paul du Feu (m. 1974–1983), Enistasious Tosh Angelos (m. 1951–1954)
Frequently Asked Questions about Maya Angelou
Don't hesitate to contact us. We are ready to help you 24/7
What is the message of Maya Angelou's poem?
Maya Angelou's "Still I Rise" is a powerful poem that draws on a range of influences, including her personal background and the African American experience in the United States. Its message of liberation and survival was a consistent theme in Angelou's work. Read More:
https://graduateway.com/the-legendary-author-maya-angelou/
What is Maya Angelou most famous work?
What is the lesson by Maya Angelou about?
The Lesson' by Maya Angelou is about life and death. The speaker begins the poem by claiming that she has died already, more than once, and that she will keep on dying. ... The speaker describes death and pain in such vivid detail that the readers can sympathize with her.