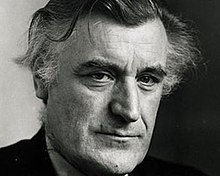 Ted hughes
We found
8

free papers on Ted hughes
Hughes' poem portrays various zoo animals. However, as the title suggests, his focus is upon the jaguar, from which he distinguishes the other animals using a few literary devices. In the opening verse, the mood of faineance has an almost narcotic effect on the reader, created by the presence of punctuation and reinforced by the…
born
August 17, 1930, Mytholmroyd, United Kingdom
died
October 28, 1998, North Tawton, United Kingdom
description
Edward James Hughes OM OBE FRSL was an English poet, translator, and children's writer. Critics frequently rank him as one of the best poets of his generation and one of the twentieth century's greatest writers. He was appointed Poet Laureate in 1984 and held the office until his death.
books
Birthday Letters 1998, The Iron Man 1968, Crow 1970
children
Frieda Hughes, Nicholas Hughes, Shura Hughes
movies
Inside The Bell Jar, Crow
quotations

"The only calibration that counts is how much heart people invest, how much they ignore their fears of being hurt or caught out or humiliated. "What's writing really about? "Nobody wanted your dance, "What happens in the heart, simply happens" "The dreamer in her. "He could not stand.

information

Short biography of Ted Hughes

Ted Hughes was born in Mytholmroyd, Yorkshire, in 1930. He was educated at Cambridge University and later worked as a scriptwriter for the BBC. His first collection of poems, The Hawk in the Rain, was published in 1957 and was followed by many others, including Crow (1970), Gaudete (1977), River (1979), Moortown Diary (1979), and Wolfwatching (1989). He also wrote plays, prose, and children's books. In 1984 he was appointed Poet Laureate. He died in 1998.

General Essay Structure for this Topic

The early years of Ted Hughes and Sylvia Plath
The meeting of Ted Hughes and Sylvia Plath
The relationship between Ted Hughes and Sylvia Plath
The marriage of Ted Hughes and Sylvia Plath
The children of Ted Hughes and Sylvia Plath
The separation of Ted Hughes and Sylvia Plath
The divorce of Ted Hughes and Sylvia Plath
The later years of Ted Hughes and Sylvia Plath
The legacy of Ted Hughes and Sylvia Plath
The impact of Ted Hughes and Sylvia Plath on literature

Important information

Spouse: Carol Orchard (m. 1970–1998), Sylvia Plath (m. 1956–1963)
Frequently Asked Questions about Ted hughes
Don't hesitate to contact us. We are ready to help you 24/7
What is Ted Hughes most famous poem?
1. 'The Thought-Fox'. This poem, from Hughes's first collection The Hawk in the Rain (1957), explores the writer's struggle to find inspiration, which is depicted in the poem by the fox.
What is the meaning of Ted Hughes?
/ˌted ˈhjuːz/ /ˌted ˈhjuːz/ ​(1930-98) an English poet whose work gives a powerful picture of both the beauty and the violence of the natural world.
What was Ted Hughes writing style?
Hughes, (born August 17, 1930, Mytholmroyd, Yorkshire, England—died October 28, 1998, London), English poet whose most characteristic verse is without sentimentality, emphasizing the cunning and savagery of animal life in harsh, sometimes disjunctive lines.
Why is Ted Hughes important?
Ted Hughes is one of the most important poets in English literature of the last century and his huge volume of work (including his poetry, prose, plays, translations, letters and critical essays) has received a great deal of critical attention. Hughes was, of course, much more than just a writer. Plath encouraged Hughes to submit his first manuscript, The Hawk in the Rain, to The Poetry Center's First Publication book contest. The judges—Marianne Moore, W. H. Auden, and Stephen Spender—awarded the manuscript first prize, and it was published in England and America in 1957, to much critical praise.