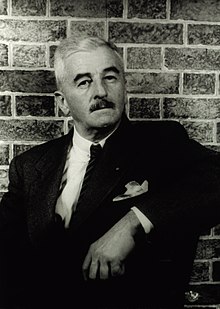 William Faulkner
We found
17

free papers on William Faulkner
In this short story, William Faulkner expresses his hopelessness over man's continuing destruction of the environment. Mostly through the eyes of a young boy, Isaac, the story progresses to finality that for Faulkner, marks the end of a time of unspoiled wilderness. The characters are Isaac, Old Ben, Sam Fathers, Lion and Boon Hoggenback. Isaac…
Show More
born
September 25, 1897, New Albany, MS
died
July 6, 1962, Byhalia, MS
description
William Cuthbert Faulkner was an American writer known for his novels and short stories set in the fictional Yoknapatawpha County, based on Lafayette County, Mississippi, where Faulkner spent most of his life.
books
The Sound and the Fury 1929, As I Lay Dying 1930, Absalom, Absalom! 1936
education
University of Mississippi (1919–1921), University of Virginia, Oxford Middle School
quotations

"Read, read, read. "Never be afraid to raise your voice for honesty and truth and compassion against injustice and lying and greed. "You cannot swim for new horizons until you have courage to lose sight of the shore." "We must be free not because we claim freedom, but because we practice it."

information

Short biography of William Faulkner

(1897-1962) American novelist, short story writer, poet, and screenwriter. Faulkner was born in New Albany, Mississippi, the first of four sons of Murry Falkner (who renamed himself Faulkner in 1918) and Maud Butler. His great-grandfather had fought as a captain in the Confederate army, and both his grandfathers and uncles were planters or businessmen. In 1898 the family moved to Oxford, the county seat of Lafayette County, where Faulkner's father worked first as a clerk for a bank and then as a businessman. Faulkner's mother died when he was five, and his father was distant and cold. Faulkner identified with his maternal uncles, John Wesley Thompson and Dean S. Butler, who were kind and loving to him. It was with these men that he developed his lifelong love of horseback riding and hunting.

Faulkner was an average student in high school and did not apply to college, although he later claimed that he had been admitted to the University of Mississippi. Instead, he joined the British Royal Flying Corps in 1918, but after training at Camp Taliaferro in Texas, he was discharged without seeing action in World War I. He returned home and enrolled at Ole Miss in 1919. Faulkner was an unenthusiastic student and was barely passing during his first year, but he improved his grades during his second year and became a member of the university's literary club, The Rezonators. Faulkner also became acquainted with Sherwood Anderson, to whom he later dedicated Mosquitoes.

After two years at Ole Miss Faulkner left to work on a merchant ship, the Yazoo and Mississippi Valley Railroad, or Yazoo, as it was known. During his stint as a worker on the Yazoo, Faulkner was constantly writing, and in June 1920 he had a poem published in the Ole Miss Annual. In July he returned to Oxford, and in September 1920 he resumed his studies at Ole Miss. In his third year he began to study under Phil Stone, a young attorney and fellow member of The Rezonators, and Faulkner became intensely interested in literature. In 1922 Faulkner was elected vice president of The Rezonators, and in the following year he was elected president.In February 1922 Faulkner published a poem, "L'Apres-Midi d'un Faune," in the Rezonator, and in May he had three poems published in the Ole Miss Annual. In June he met Estelle Oldham, and they were married in June 1929. Faulkner completed his course work in June 1924 and wrote his master's thesis on the poetry of John Donne, but he did not receive his degree until June 1947.After his marriage to Estelle and the death of his father, who had suffered

General Essay Structure for this Topic

The Sound and the Fury: An Introduction
Faulkner's Use of Stream of Consciousness in The Sound and the Fury
The Significance of the Title of The Sound and the Fury
The Character of Benjy in The Sound and the Fury
The Character of Quentin in The Sound and the Fury
The Character of Jason in The Sound and the Fury
The Character of Dilsey in The Sound and the Fury
Themes in The Sound and the Fury
The Sound and the Fury and the Modernist Novel
Faulkner's Legacy: The Sound and the Fury and Beyond

Important information

Spouse: Estelle Oldham (m. 1929–1962)

Short stories: A Rose for Emily, Barn Burning, Dry September, That Evening Sun, Knight's Gambit
Frequently Asked Questions about William Faulkner
Don't hesitate to contact us. We are ready to help you 24/7
What inspired William Faulkner to write?
A 19th century plantation diary was a source of inspiration to William Faulkner as he plotted the creation of his imaginary Yoknapatawpha CountyYoknapatawpha CountyYoknapatawpha County (/jɒknəpəˈtɔːfə/) is a fictional Mississippi county created by the American author William Faulkner, largely based upon and inspired by Lafayette County, Mississippi, and its county seat of Oxford, Mississippi (which Faulkner renamed Jefferson).Yoknapatawpha County , the setting for books including Go Down, Moses, The Sound and the Fury and Absalom, AbsalomAbsalom, AbsalomAbsalom, Absalom! details the rise and fall of Thomas Sutpen, a white man born into poverty in West Virginia who moves to Mississippi with the complementary aims of gaining wealth and becoming a powerful family patriarch. Absalom, Absalom! ! according to an American professor of English. Read More:
https://graduateway.com/analysis-of-as-i-lay-dying-by-faulkner/
What is William Faulkner best known for?
William Faulkner wrote numerous novels, screenplays, poems, and short stories. Today he is best remembered for his novels The Sound and the Fury (1929), As I Lay Dying (1930), Sanctuary (1931), and Absalom, Absalom! (1936). Read More:
https://graduateway.com/william-faulkners-stories/
What is William Faulkner's writing style?
His rich and brilliant baroque writing style is developed in the extremely long sentences embedding with complex subordinate parts. Faulkner's stories were often written with a highly emotional, delicate, cerebral, complicated style with Gothic or grotesque elements.
What themes did William Faulkner write about?
Faulkner's themes are southern tradition, family, community, the land, history and the past, race, and the passions of ambition and love. He also created three novels focusing on the rise of a degenerate family, the Snopes clan: The Hamlet (1940), The Town (1957), and The Mansion (1959).