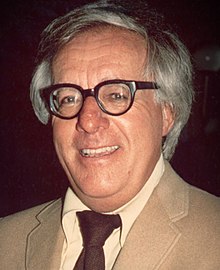 Ray Bradbury
We found
57

free papers on Ray Bradbury
Throughout the book "The Last Night of the World" by Ray Bradbury, there are a lot of vague generalizations that are left unanswered. Ray Bradbury is known for his descriptive literature and vast amounts of emotion and mystery; most of which is never completely understood by the reader. Ray Bradbury is well known for his…
Show More
born
August 22, 1920, Waukegan, IL
died
June 5, 2012, Los Angeles, CA
description
Ray Douglas Bradbury was an American author and screenwriter. One of the most celebrated 20th-century American writers, he worked in a variety of modes, including fantasy, science fiction, horror, mystery, and realistic fiction.
books
Fahrenheit 451 1953, The Martian Chronicles 1950, Dandelion Wine 1957
education
Los Angeles High School (1938)
quotations

Stuff your eyes with wonder, he said, live as if you'd drop dead in ten seconds. You don't have to burn books to destroy a culture. "You must stay drunk on writing so reality cannot destroy you." -Zen in the Art of Writing. "Libraries raised me.

information

Short biography of Ray Bradbury

Ray Douglas Bradbury (August 22, 1920 – June 5, 2012) was an American author and screenwriter. He worked in a variety of genres, including fantasy, science fiction, horror, and mystery fiction.Widely known for his dystopian novel Fahrenheit 451 (1953), and his science-fiction and horror-story collections, The Martian Chronicles (1950) and The Illustrated Man (1951), Bradbury was one of the most celebrated 20th- and 21st-century American writers. While most of his best known work is in speculative fiction, he also wrote in other genres, such as the coming-of-age novel Dandelion Wine (1957) and the fictionalized memoir Green Shadows, White Whale (1992).

Bradbury was inducted into the Science Fiction and Fantasy Hall of Fame in 1994 and the Science Fiction Hall of Fame in 2012. He was awarded the National Medal of Arts in 2004 and the Pulitzer Prize–Special Citation in 2007.In 1951, Bradbury married Marguerite McClure, a fellow writer. They had four daughters: Bettina, Ramona, Alexandra, and Susan. Marguerite died in 1983. Bradbury's health began to decline in the early 2000s, and he died on June 5, 2012, at the age of 91.

General Essay Structure for this Topic

Persuasive Language and Argument in Fahrenheit 451
The Power of Persuasive Language
The Impact of Argument
The Role of Persuasive Language in Fahrenheit 451
The Significance of Argument in Fahrenheit 451
The Importance of Persuasive Language
The Function of Argument in Fahrenheit 451
The Use of Persuasive Language
The Place of Argument in Fahrenheit 451
The Power of Language in Fahrenheit 451

Important information

Movies and TV shows: The Ray Bradbury Theater, Fahrenheit 451, A Sound Of Thunder

Awards: Medal of Distinguished Contribution to American Letters, National Medal of Arts
Frequently Asked Questions about Ray Bradbury
Don't hesitate to contact us. We are ready to help you 24/7
What is a meaningful quote from Ray Bradbury?
"Stuff your eyes with wonder, he said, live as if you'd drop dead in ten seconds. See the world. It's more fantastic than any dream made or paid for in factories." "Everyone must leave something behind when he dies, my grandfather said. Read More:
https://graduateway.com/writing-assignment-fahrenheit-451/
What was Ray Bradbury's purpose for writing Fahrenheit 451?
In a 1956 radio interview, Bradbury said that he wrote Fahrenheit 451 because of his concerns at the time (during the McCarthy era) about the threat of book burning in the United States. In later years, he described the book as a commentary on how mass media reduces interest in reading literature. Read More:
https://graduateway.com/essay-example-fahrenheit-41-2/
What is Bradbury's writing style?