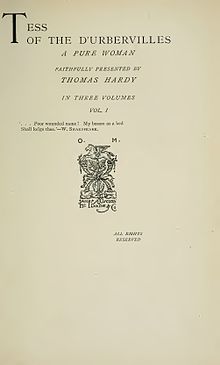 Tess of the D'Urbervilles
We found
5

free papers on Tess of the D'Urbervilles
American Literature
Fiction
Literature
Tess of the D'Urbervilles
Tess of the dUrbervillesThrough life people may fault, or get on the wrong side of the tracks. Yet hopefully they keep faith and then willingly they may recoup and redeem themselves by recovering. Many believe that, Tess in, Tess of the dUrbervilles was a great example of this. In Hardys Victorian age novel, Tess of…
author
Thomas Hardy
genre
Novel,Fiction,Social novel
theme
Fate, or destiny determined by a power beyond an individual's control, is a clear and pervasive theme in Tess of the d'Urbervilles. No matter what Tess attempts, trouble follows and impedes her. ... It is as if awareness of their ancestry sets their fate into motion. It is fate, or predestination, that Tess cannot escape.,
originally published
1891
characters
Alec d'Urberville, Angel Clare, John Durbeyfield, Parson Tringham, Tess Durbeyfield
quotations

"Beauty lay not in the thing, but in what the thing symbolized." "Did you say the stars were worlds, Tess?" "Why didn't you tell me there was danger? "Did it never strike your mind that what every woman says, some women may feel?"

information

Tess of the d'Urbervilles: A Pure Woman Faithfully Presented is a novel by Thomas Hardy. It initially appeared in a censored and serialised version, published by the British illustrated newspaper The Graphic in 1891, then in book form in three volumes in 1891, and as a single volume in 1892.

Pages: 592

Age: 16-year-old

Adaptations: Tess of the D'Urbervilles (1998), Tess (1979), Tess of the D'Urbervilles (2008)

Movies and TV shows: Gemma Arterton, Hans Matheson, Eddie Redmayne, Ruth Jones, Christopher Fairbank, Jodie Whittaker, Ian Puleston-Davies

Ending: In a modern sense, Tess is sacrificed to the laws and morals of the nineteenth century. Hardy ends Tess' tale with the words "'Justice' was done, and the President of the Immortals, in the Aeschylean phrase, had ended his sport with Tess." A bit of background is needed to understand this phrase.,

Set: Tess of the D'Urbervilles takes place in the late 19th century (a.k.a., the Victorian period, or during the reign of Queen Victorian, 1837- 1901), in an area of England to the southwest of London. Almost all of Hardy's novels take place in this same general area—ol' Thomas knew what he liked, and stuck with it.,

Plot: Tess, attractive and innocent, is seduced by dissolute Alec d'Urberville and secretly bears a child, Sorrow, who dies in infancy. Later working as a dairymaid, she meets and marries Angel Clare, an idealistic gentleman who rejects Tess after learning of her past on their wedding night.,
Frequently Asked Questions about Tess of the D'Urbervilles
Don't hesitate to contact us. We are ready to help you 24/7
How is Tess a tragic hero?
The classical tragic hero, according to Aristotle, is noble and dignified, and is punished on a far greater scale than his small sins warrant, with death. Tess too is highborn and honorable, and her momentary submission to Alec brings her a far greater suffering than she deserves, as even Alec comes to realize.
How is Tess presented in the first phase essay?
In the first part of the novel Tess is portrayed in a very innocent light. ... Tess spends most of her time in the first phase feeling guilty about something. This starts at the begging, when she feels guilty about enjoying her self as she got her dress dirty.
What is the conclusion of Tess of the D Urbervilles?
Tess has been executed for murder, and the black flag at the prison indicates to anyone looking up at it that an execution has just taken place. Hardy puts "justice" in quotation marks because, of course, neither he nor the reader believes Tess's fate to be "just" in any real sense.
What is the inner core of the novel Tess of the D Urbervilles by Hardy?
Tess, as the core character in the book, is the representative of perfect humanity in the eyes of Hardy. Angel, however, is a contradictory complex, for he pursues for new thought and ideal humanity on the one hand, but on the other hand, he is so limited by the old morals that he can not accept the true Tess.