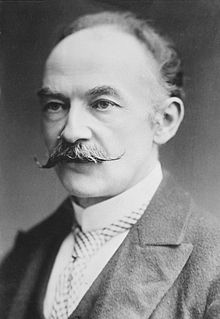 Thomas Hardy
We found
10

free papers on Thomas Hardy
I predict the poem will be about something about an ox. In addition, I predict the oxen in the poem will symbolize strength, so an idea of strength or power might be portrayed. Paraphrase- It is Christmas Eve and an elder is telling the children a story near the fire. The children initially believe the…
born
June 2, 1840, Stinsford, United Kingdom
died
January 11, 1928, Dorchester, United Kingdom
description
Thomas Hardy OM was an English novelist and poet. A Victorian realist in the tradition of George Eliot, he was influenced both in his novels and in his poetry by Romanticism, including the poetry of William Wordsworth.
movies
Far from the Madding Crowd, Tess, Jude, The Mayor of Casterbridge
information

Short biography of Thomas Hardy

Thomas Hardy was a 19th century English writer. He was born in rural England, in the county of Dorset, on June 2, 1840. Hardy's father was a stone mason and his mother was a housekeeper. Hardy was educated at home and at local schools. He showed an early interest in writing and, at the age of 16, he became an apprentice to an architect.Hardy's first novel, "The Poor Man and the Lady," was published in 1867. It was not well received. Hardy's next novel, "Under the Greenwood Tree," was published in 1872. This book was more successful. Hardy's most famous novel, "Tess of the d'Urbervilles," was published in 1891. The book was controversial because of its frank treatment of sexuality and its criticism of Victorian morality.Hardy's wife died in 1912. Hardy married his second wife, Florence Dugdale, in 1914. Hardy died on January 11, 1928.

General Essay Structure for this Topic

The problems with Victorian Society according to Thomas Hardy
The flaws in Victorian Society that Hardy points out
Hardy's criticism of the hypocrisies of Victorian Society
The ways in which Hardy feels that Victorian Society is unjust
Hardy's belief that Victorian Society is cruel and heartless
The lack of empathy shown by Victorian Society according to Hardy
Hardy's view that Victorian Society is soulless and Empty
The superficiality of Victorian Society in Hardy's opinion
The false values of Victorian Society as seen by Hardy
Hardy's criticism of the shallowness of Victorian Society

Important information

Spouse: Florence Dugdale (m. 1914–1928), Emma Gifford (m. 1874–1912)

Siblings: Mary Hardy, Katherine Hardy
Frequently Asked Questions about Thomas Hardy
Don't hesitate to contact us. We are ready to help you 24/7
What is Thomas Hardy's style of writing?
He was one of the best representatives of his age as a novelist. His representation of the essential human conditions is outstanding. His realism, prose style, characterization and social criticism in his novels are works of social commentary.
What did Thomas Hardy's poem reflect?
These include "After a Journey" and "The Voice." Since these lyric poems were written after the death of Hardy's wife Emma in 1912, they reflect his remorse about their mutual estrangement of twenty years. ... Such poems influenced other war poets like Rupert Brooke (1887-1915) and Siegfried Sassoon (1886-1967).
What is the father name of Thomas Hardy?
Thomas Hardy was born on 2 June 1840 in Higher Bockhampton (then Upper Bockhampton), a hamlet in the parish of Stinsford to the east of Dorchester in Dorset, England, where his father Thomas (1811–1892) worked as a stonemason and local builder, and married his mother Jemima (née Hand; 1813–1904) in Beaminster, towards ...
What is Thomas Hardy best known for?
What is Thomas Hardy best known for? Thomas Hardy is best known for his novels, all of which were published in the mid- to late-19th century. His last novels, Tess of the d'Urbervilles and Jude the Obscure, are generally considered his finest.