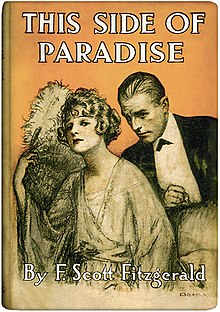 This Side of Paradise
We found
5

free papers on This Side of Paradise
F.Scott Fitzgerald
This Side of Paradise
Francis Scott Key Fitzgerald once said "Mostly we authors must repeat ourselves–that's the truth. We have two or three experiences in our lives– experiences so great and moving that it doesn't seem at the time that anyone else has been so caught up" (de Koster n. pag.). Fitzgerald's works contain many themes that are based…
information

Short summary on This Side of Paradise

This Side of Paradise is the first novel by the American writer F. Scott Fitzgerald. The book introduces a fictional character named Amory Blaine, who would later appear in Fitzgerald's short story collection Tales of the Jazz Age and the novels The Beautiful and Damned and Tender Is the Night. The story follows Amory from his Ivy League education to his enlistment in the army during World War I, but focuses mostly on his experiences at Princeton University and with his first love Rosalind Connage.

The novel was well received when it was published in 1920, with critics praising its portrayal of youth; however, they were divided over the character of Amory Blaine, some finding him an appealing hero while others considered him shallow and self-absorbed. This Side of Paradise remains popular today due to its depiction of college life during World War I, although many modern readers find its treatment of sex overly idealistic and simplistic.

General Essay Structure for this Topic

The allure of paradise
The appeal of the unattainable
The dangers of chasing paradise
The cost of paradise
The dark side of paradise
The disillusionment of paradise
The beauty of paradise
The seduction of paradise
The tragedy of paradise
Frequently Asked Questions about This Side of Paradise
Don't hesitate to contact us. We are ready to help you 24/7
What is the message of this side of paradise?
The theme of "This Side of Paradise" is about the disappointment one feels as they grow older and experience more of the world. Amory realizes that " great heroes, people, and ideas that one idealizes during one's youth are just human too." (Amory, pg.
Where does this side of paradise take place?
Princeton and New York City.
Why does Rosalind turn down Amory Blaine?
After several failed loves, and after the war, he falls deeply in love with Rosalind, and she with him. But, refusing to marry someone without great wealth, Rosalind breaks Amory's heart. ... Without his wealth to fall back on, Amory is forced to look harder for meaning in his life.
Why is this side of paradise a modernist novel?
This also shows Modernism because the war was a huge turning point in the transition into modernism. Modernism became popular with war because since the war was so devastating, people lost faith in God and religion and put it into science.