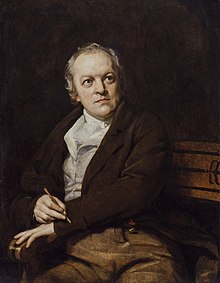 William Blake
We found
26

free papers on William Blake
The Romantic Characteristics of William Blake The romantics were really different from their predecessors of the enlightenment period. The enlightenment society was really proper and regulation filled while the romantics were basically ruleless people who wanted societal and public reform. They were rebellious peoples who led the Gallic revolution and thought people should hold the…
Show More
born
November 28, 1757, Soho, London, United Kingdom
died
August 12, 1827, London, United Kingdom
description
William Blake was an English poet, painter, and printmaker. Largely unrecognised during his life, Blake is now considered a seminal figure in the history of the poetry and visual art of the Romantic Age.
books
Songs of Innocence and of Experience 1789, The Tyger 1794, The Illuminated Books of William Blake 1974
education
Royal Academy of Arts
quotations

Read our favourite William Blake quotes below: "To see a World in a Grain of Sand. "It is easier to forgive an enemy than to forgive a friend." "A truth that's told with bad intent. "If a thing loves, it is infinite." "If the doors of perception were cleansed every thing would appear to man as it is, Infinite. "Tyger!

information

Short biography of William Blake

William Blake was an English poet and painter, considered one of the most important of the Romantic poets. Blake was born in London on November 28, 1757, to a family of artisan goldsmiths. His parents were Dissenters and he was educated at home until he was ten. At that age, he was sent to a small boarding school in the Strand, where he learned to read and write.In 1767, Blake began apprenticing with an engraver. He also attended drawing classes at the Royal Academy. In 1779, he completed his apprenticeship and began working as a professional engraver.In 1782, Blake met a girl named Catherine Boucher. They married in 1782 and had eight children, only two of whom survived to adulthood.

In 1784, Blake published his first book of poetry, Poetical Sketches. This was followed by Songs of Innocence in 1789 and Songs of Experience in 1794. Blake also illustrated these works himself. In 1793, Blake started having visions and began to see the world in a different way. He believed that the spiritual and material worlds were intertwined.In 1800, Blake moved to Felpham, a village in Sussex, to work as a book Illustrator. While living there, he wrote the poems that would eventually be collected as Milton: A Poem (1804) and Jerusalem: The Emanation of the Giant Albion (1804-1820).In 1803, Blake was arrested and tried for sedition after he was found to have inscribed the words "I will not cease from Mental Fight, Nor shall my Sword sleep in my hand" on the door of his cottage. He was acquitted, but the event had a profound effect on him.In 1818, Blake moved back to London. He continued to write and illustrate until his death on August 12, 1827.

General Essay Structure for this Topic

Themes and Motifs in Blake's Songs of Experience
The Contrast Between Blake's Songs of Innocence and Experience
The Structure of Blake's Songs of Experience
Blake's Use of Imagery in Songs of Experience
Blake's Symbolism in Songs of Experience
The Significance of the Title Songs of Experience
The Relationship Between the Poems in Songs of Experience
Blake's Treatment of Childhood in Songs of Experience
The Tone of Blake's Songs of Experience
The Overall Message of Blake's Songs of Experience

Important information

Artworks: The Ancient of Days, The Ghost of a Flea, Newton, The Night of Enitharmon's Joy

On view: National Gallery of Art, Los Angeles County Museum of Art

Periods: Symbolism, Romanticism

Spouse: Catherine Blake (m. 1782–1827)
Frequently Asked Questions about William Blake
Don't hesitate to contact us. We are ready to help you 24/7
Is William Blake a Renaissance poet?
William Blake (28 November 1757 – 12 August 1827) was an English poet, painter, and printmaker. Largely unrecognised during his life, Blake is now considered a seminal figure in the history of the poetry and visual art of the Romantic AgeRomantic AgeRomanticism (also known as the Romantic era) was an artistic, literary, musical, and intellectual movement that originated in Europe towards the end of the 18th century, and in most areas was at its peak in the approximate period from 1800 to 1850. Read More:
https://graduateway.com/william-blake-the-tyger-essay-sample-essay/
What did William Blake mainly write about?
The poems protest against war, tyranny, and King George III's treatment of the American colonies. He published his most popular collection, Songs of Innocence, in 1789 and followed it, in 1794, with Songs of Experience.
What is William Blake's message in London?
"London" analyzes and points out cruelty and injustice occurring in the society and criticizes the church and the British monarchy. It articulates the social grievances of marginalized people such as prostitutes and chimney-sweepers who used to be children during that time.
What is William Blake's writing style?
Preferring to work in free verse, he developed a style for fourteen syllable measures with he perfected and is seen to be his signature. Ironically, William often stated that an artist who sought to create a style was missing the point of creativity altogether, but nonetheless, he himself had artistic preferences.