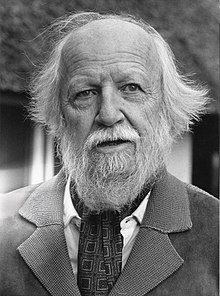 William Golding
We found
135

free papers on William Golding
Why do you think William Golding chose to set LOTF on an island and how does he use the island in the novel? Lord of the Flies begins with the boys plane crash landing on a deserted island after trying to escape some sort of futuristic nuclear war, possibly Golding's insight into the outbreak of…
Show More
born
September 19, 1911, Newquay, United Kingdom
died
June 19, 1993, Tullimaar House (William Golding), Perranarworthal, United Kingdom
description
Sir William Gerald Golding, CBE FRSL was a British novelist, playwright, and poet. Best known for his debut novel Lord of the Flies, he published another twelve volumes of fiction in his lifetime.
books
Lord of the Flies 1954, The Inheritors 1955, Pincher Martin 1956
education
Brasenose College, Marlborough Royal Free Grammar School, University of Oxford
children
Judy Carver, David Golding
quotations

Words may, through the devotion, the skill, the passion and the luck of writers, prove to be the most powerful thing in the world. "The thing is – fear can't hurt you any more than a dream." "We've got to have rules and obey them. "The greatest ideas are the simplest."

information

Short biography of William Golding

William Golding (1911-1993) was a British writer best known for his novel Lord of the Flies.William Golding was born in St. Columb Minor, Cornwall, England, on September 19, 1911, the son of Alec Golding, a schoolmaster, and Mildred Golding, a former nurse. He was educated at the Marlborough Grammar School and at Brasenose College, Oxford.After graduation, he spent a year teaching at a boys' school in Salisbury, then worked for two years as a schoolmaster in England and in Malta. In 1940, he joined the Royal Navy and served in the Atlantic and the Mediterranean during World War II.His first novel, Lord of the Flies, was published in 1954 and was immediately successful. It was followed by The Inheritors (1955), Pincher Martin (1956), Free Fall (1959), The Spire (1964), Darkness Visible (1979), and Rites of Passage (1980), which won the Booker Prize.His other novels include The Brass Butterfly (1958), The Double Tongue (1965), The Pyramid (1967), The Scorpion God (1971), and The Sea Trilogy, consisting of To the Ends of the Earth (1971), Rites of Passage (1980), and Close Quarters (1987).Golding was knighted in 1988 and was awarded the Nobel Prize for Literature in 1983. He died in Perranarworthal, Cornwall, England, on June 19, 1993.

General Essay Structure for this Topic

Themes in "Lord of the Flies"
The Characters in "Lord of the Flies"
The Setting of "Lord of the Flies"
The Plot of "Lord of the Flies"
The Symbolism in "Lord of the Flies"
The Irony in "Lord of the Flies"
The Allegory in "Lord of the Flies"
The Morality in "Lord of the Flies"
The Significance of the Title "Lord of the Flies"
The Connection Between "Lord of the Flies" and World War

Important information

Spouse: Ann Brookfield (m. 1939–1993)

Awards: Nobel Prize in Literature, Booker Prize
Frequently Asked Questions about William Golding
Don't hesitate to contact us. We are ready to help you 24/7
What did William Golding believe?
Golding contends that human nature, when free from the constraints of society, draws people away from common sense to savagery. His fundamental arguments are that human beings are savage by nature, and are moved by urges toward brutality and dominance over others. Read More:
https://graduateway.com/william-golding-nowadays/
What did William Golding do?
Sir William Gerald Golding, CBE FRSL (19 September 1911 – 19 June 1993) was a British novelist, playwright, and poet. Best known for his debut novel Lord of the Flies (1954), he published another twelve volumes of fiction in his lifetime. ... As a result of his contributions to literature, Golding was knighted in 1988. Read More:
https://graduateway.com/lord-of-the-flies-as-commentary-on-our-times-lord/
What inspired William Golding write Lord of the Flies?
Golding's experience teaching unruly young boys would later serve as inspiration for his novel Lord of the Flies. Although passionate about teaching from day one, in 1940 Golding temporarily abandoned the profession to join the Royal Navy and fight in World War II. In his masterful biography of Golding, John Carey writes that Golding was inspired to write the 'real' story of what would happen if boys were stranded on an island – 'in Lord of the Flies he had written Coral Island in reverse'. Read More:
https://graduateway.com/lord-of-the-files-thesis-paper/
Why was William Golding important?
William Golding, in full Sir William Gerald Golding, (born September 19, 1911, St. Columb Minor, near Newquay, Cornwall, England—died June 19, 1993, Perranarworthal, near Falmouth, Cornwall), English novelist who in 1983 won the Nobel Prize for Literature for his parables of the human condition. Read More:
https://graduateway.com/lord-of-the-flies-literary-analysis-2/