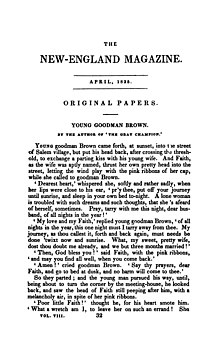 Young Goodman Brown
We found
15

free papers on Young Goodman Brown
Nathaniel Hawthorne's story "Young Goodman Brown" is a story of one man's journey in the realization that what appears to be reality may not necessarily be the case.  The story was set in Salem, Massachusetts during the height of the Puritan Period.  This period in American history has been characterized as a time when religion…
Show More
| | |
| --- | --- |
| author | Nathaniel Hawthorne |
| genre | Short story,Fiction |
| originally published | 1835 |
| description | "Young Goodman Brown" is a short story published in 1835 by American writer Nathaniel Hawthorne. The story takes place in 17th-century Puritan New England, a common setting for Hawthorne's works, and ... |
| setting | "Young Goodman Brown" takes place at the end of the 17th century, around the time of the Salem Witch Trials. How do we know this? Because some of Hawthorne's minor characters—like Deacon Gookin, Goody Cloyse, Martha Carrier—were real citizens of Salem., At the beginning of the story Goodman Brown sets out on his journey at sunset; to set out at sunset is symbolizing darkness, which in turn symbolizes evil, which begins the setting for the story of "Young Goodman Brown." As Brown is leaving he kisses his wife, Faith, goodbye; the name Faith is intentionally used to ... |
| characters | Goodman Brown, Deacon Gookin, Goody Cloyse, Faith, The Old Man, The Minister |
| tone | In "Young Goodman Brown," Hawthorne's narrator takes a measured, serious tone. Even more serious and earnest are the utterances of the Puritans themselves, who speak with an innocence and directness befitting their religious leanings., |
| antagonist | the Devil |
| information | Conflict: Young Goodman Brown' is a dramatization of the Puritan ideology and conflicts are one part of this dramatization. The two major elements which cause the conflicts are the journey and the appearance of the devil, the old woman Goody Cloyse, the Deacon, the minister and finally his wife, Faith., Many traditional explanations of conflict include things like Man vs. Man, Man vs. Nature, but these don't seem appropriate for "Young Goodman Brown." The conflict in this story is between man (Brown) and his unreasonable demands on other people to be what he wants/needs them to be. |
Frequently Asked Questions about Young Goodman Brown
Don't hesitate to contact us. We are ready to help you 24/7
What is the message in Young Goodman Brown?
"Young Goodman Brown" functions as an allegory of the fall of man, from which Hawthorne draws to illustrate what he sees as the inherent fallibility and hypocrisy in American religion. Hawthorne sets up a story of a man who is tempted by the devil and succumbs because of his curiosity and the weakness of his faith.
What type of character is Young Goodman Brown?
A young resident of Salem and the story's protagonist. Goodman Brown is a good Christian who has recently married Faith. He takes pride in his family's history of piety and their reputation in the community as godly men.
What is the main argument of Young Goodman Brown?
The main themes in "Young Goodman Brown" are faith, guilt, and good versus evil. Faith: Brown relies on the faith of others to bolster his own piety. Without that communal sense of morality, Brown's faith is easily corrupted. Guilt: After his experience in the woods, Brown loses his confidence and faith.
What is a good thesis statement for Young Goodman Brown?
Thesis: This dark Romantics story develops through the clue of Goodman Brown's gradual giving in to evil from the corruption of his wife and the encounter of the devil, all major characters' are also set as a symbols to reveal the conflict of good and evil in all people, though in the author's view, evil usually takes ...