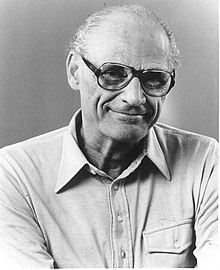 Arthur Miller
We found
181

free papers on Arthur Miller
And Salem Witch TrialsIn The Crucible by Arthur Miller, the madness of the Salem WitchTrials is explored in great detail. There are many theories as to why the witchtrials came about, the most popular of which the girls' suppressed childhood. However, there were other factors as well, such as Abigail Williams' affair withJohn Proctor, the…
Show More
born
October 17, 1915, Harlem, New York, NY
died
February 10, 2005, Roxbury, CT
description
Arthur Asher Miller was an American playwright, essayist and screenwriter in the 20th-century American theater. Among his most popular plays are All My Sons, Death of a Salesman, The Crucible, and A View from the Bridge. He wrote several screenplays and was most noted for his work on The Misfits.
books
Collected Essays, 1944-2000 2000,
education
University of Michigan (1938), Abraham Lincoln High School (1932)
children
Rebecca Miller, Robert A. Miller, Daniel Miller, Jane Ellen Miller, Robert Miller
quotations

"It is rare for people to be asked the question which puts them squarely in front of themselves." "I cannot write anything that I understand too well." "The jungle is dark but full of diamonds." "I saw clearly only when I saw with love."

information

Spouse: Inge Morath (m. 1962–2002), Marilyn Monroe (m. 1956–1961)

Plays: The Crucible 1953, Death of a Salesman 1949, All My Sons 1947
Frequently Asked Questions about Arthur Miller
Don't hesitate to contact us. We are ready to help you 24/7
What themes did Arthur Miller write about?
Anyone can discuss the major themes of guilt, disillusionment, corruption and compliance in Arthur Miller's work, and practically everyone has, judging from the number of scholarly and popular books, high school and college term papers and half-empty reviews of the latest productions of "The Crucible" and "Death of a ... Read More:
https://graduateway.com/the-crucible-and-abigail-williams-essay/
What was Miller's main purpose for writing?
What is Arthur Miller's writing style?