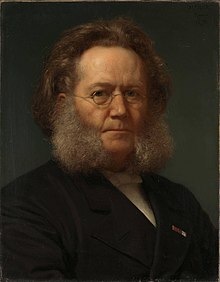 Henrik Ibsen
We found
30

free papers on Henrik Ibsen
Henrik Ibsen's A Doll's House is an exploration of the difficulty of obtaining and sustaining individuality in a constricting society that revolves around fixed stereotypes. This theme is developed throughout Ibsen's play in various ways that effectively communicate his opinion of society. Among the techniques used to accomplish this are his use of set and…
Show More
born
March 20, 1828, Skien Municipality, Norway
died
May 23, 1906, Oslo, Norway
description
Henrik Johan Ibsen was a Norwegian playwright and theatre director. As one of the founders of modernism in theatre, Ibsen is often referred to as "the father of realism" and one of the most influential playwrights of his time.
books
A Doll's House and Other Plays 1889
children
Sigurd Ibsen, Hans Jacob Henriksen
movies
A Doll's House, Nora Helmer, An Enemy of the People, Hedda, Peer Gynt, Hedda Gabler
quotations

The strongest man in the world is he who stands most alone. A thousand words will not leave so deep an impression as one deed. A community is like a ship; everyone ought to be prepared to take the helm. The majority is always wrong; the minority is rarely right. A forest bird never wants a cage.

information

Short biography of Henrik Ibsen

Henrik Ibsen (20 March 1828 – 23 May 1906) was a major Norwegian playwright largely responsible for the rise of modern realistic drama. He is often referred to as the "father of prose drama" and is one of the founders of Modernism in the theatre. His major works include Brand, Peer Gynt, An Enemy of the People, Emperor and Galilean, A Doll's House, Hedda Gabler, The Wild Duck, When We Dead Awaken, Rosmersholm, and The Master Builder.

He is the most frequently performed dramatist in the world after Shakespeare.Ibsen was born in Skien, a small town in Telemark county, Norway. He was the second of five children born to Knud Ibsen (1797-1877), a well-to-do merchant, and Marichen Altenburg (1799-1869). His father's ship-building firm had gone bankrupt in 1826, and the family had to sell their house and move to a cheaper quarter of the town. When he was eight Ibsen was sent to live with a local farmer and his family in the nearby village of Gjerpen. This period was later described as the happiest time of his life.In 1843 Ibsen was admitted to the Cathedral School in Skien, where he studied until 1846 (he always had a flair for languages, and in addition to his native Norwegian, he would later master Danish, Swedish, German, English, French and Italian). He had great difficulty adjusting to the discipline of the school, and was frequently involved in fistfights and other mischievous activities. In 1846 he left the school and began an apprenticeship with a local pharmacist, a man by the name of Ellefsen.

Ibsen's first play, Catiline, was published under the pseudonym Brynjolf Bjarme in 1849. This and a second play, The Warrior's Barrow, were published together under the title Poems in 1852. Ibsen left Ellefsen's pharmacy in 1851, and traveled to Grimstad to take up a position as an assistant pharmacist. It was here that he began work on his first draft of Brand. He also worked on a translation of Victor Hugo's play Lucrezia Borgia.Ibsen's first play to be performed on stage, The Feast at Solhaug, was produced in Bergen in 1855. It was a failure, and was not performed again. He then traveled to Christiania (now Oslo) and Copenhagen, returning to Grimstad in the summer of 1857. The following year Brand was staged in Bergen, but was again a failure. Ibsen then traveled to Rome and Dresden, and on his return to Christiania he found a publisher for his translation of Lucrezia Borgia.

General Essay Structure for this Topic

The Importance of Ibsen's "A Doll's House"
The Significance of the Title "A Doll's House"
The Character of Nora in "A Doll's House"
The Character of Torvald in "A Doll's House"
The Relationship Between Nora and Torvald in "A Doll's House"
Nora's Decision to Leave at the End of "A Doll's House"
The Significance of the Ending of "A Doll's House"
The Themes of "A Doll's House"

Important information

Spouse: Suzannah Ibsen (m. 1858–1906)

Plays: Puphejmo 1879, Peer Gynt 1867, Ghosts 1881
Frequently Asked Questions about Henrik Ibsen
Don't hesitate to contact us. We are ready to help you 24/7
What is Henrik Ibsen known for?
Henrik Ibsen's major works include "Brand", "Peer Gynt", "An Enemy of the People", and "A Doll's House", as well as "Hedda Gabler", "Ghosts", "The Wild Duck", "When We Dead Awaken", and "The Master Builder". All of these plays have strong and challenging characters that live on outside of their plays' intrigues. Read More:
https://graduateway.com/hedda-gabler-reflective-statement/
What is Henrik Ibsen writing style?
What is the main message of a doll's house?
What kind of person was Henrik Ibsen?
Henrik Ibsen, in full Henrik Johan Ibsen, (born March 20, 1828, Skien, Norway—died May 23, 1906, Kristiania [formerly Christiania; now Oslo]), major Norwegian playwright of the late 19th century who introduced to the European stage a new order of moral analysis that was placed against a severely realistic middle-class ...