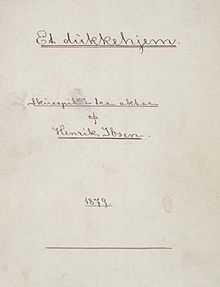 A Doll's House
We found
17

free papers on A Doll's House
Torvald calls Nora several pet names. What do these names suggest about Torvalds perception of his wife and Marriage? Songbird, Squirrelkin, Featherbrains All these pet names suggest that Torvald does not see him and Nora as equals. He seems to think that he has the higher status and control/power in this marriage and that Nora…
Show More
originally published
December 4, 1879
description
A Doll's House is a three-act play written by Norwegian playwright Henrik Ibsen. It premiered at the Royal Theatre in Copenhagen, Denmark, on 21 December 1879, having been published earlier that month. The play is set in a Norwegian town circa 1879.
setting
The home of the Helmer family in an unspecified Norwegian town or city, circa 1879
characters
Torvald Helmer, Nora Helmer, Mrs. Linde, Nils Krogstad, Dr Rank, Ivar Helmer
protagonist
Nora. The protagonist of the play and the wife of Torvald Helmer. Nora initially seems like a playful, naïve child who lacks knowledge of the world outside her home.,
antagonist
Krogstad
climax
"[[Nora] looks steadily at him ... with a growing look of coldness in her face.]",
information

Playwright: Henrik Ibsen

Subject: The awakening of a middle-class wife and mother

Exposition: Exposition: In the beginning of "A Doll's House", the author describes their house and Nora comes home from Christmas shopping. … Torvald and Nora get into discussion about her money spending. Rising Action: Nora gets an unexpected visit from an old friend, Ms. Linde.,
Frequently Asked Questions about Dolls House
Don't hesitate to contact us. We are ready to help you 24/7
Is a doll's house a feminist play essay?
Ibsen finalizes the play by depicting all the women characters as feminists who abandon their 'doll' lives to leave like free, significant, and responsible in their societies. Nora, Linde, among others, begin as slaves but end a feminists. This renders Ibsen's 'A Doll's House' a feminist essay.
What is the main message of a doll's house?
The main message of A Doll's House seems to be that a true (read: good) marriage is a joining of equals. The play centers on the dissolution of a marriage that doesn't meet these standards.
What is the thesis of the doll's house?
In Henrik Ibsen's play "A Doll's House", Nora's character is striking to the audience because they perceive within her two antithetical forces: a desire to perform to Torvald and society's expectations of the perfect women and a drive for pride and independence as a self-directed individual.