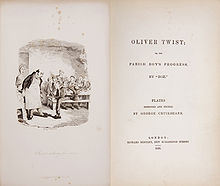 Oliver Twist
We found
6

free papers on Oliver Twist
While the main character stands out in this story, it is the supporting characters that facilitate the development of a satisfying and believable theme in this content-rich novel. The secondary characters also play a significant role in the major conflict of "Good vs. Evil". The story of Oliver Twist features three significant supporting characters: Mr….
| | |
| --- | --- |
| author | Charles Dickens |
| genre | Novel,Social novel,Adventure fiction |
| originally published | 1838 |
| description | Oliver Twist; or, the Parish Boy's Progress, Charles Dickens's second novel, was published as a serial from 1837 to 1839, and as a three-volume book in 1838. Born in a workhouse, the orphan Oliver Twist is sold into apprenticeship with an undertaker. |
| setting | The filthy slums of London and the clean, comfortable house of Brownlow and the Maylies. Dickens often uses weather conditions to aid in setting a scene. ..., |
| characters | Fagin, Artful Dodger, Oliver Twist, Bill Sikes, Mr. Bumble, Nancy, Mr. Brownlow |
| quotations | "Dignity, and even holiness too, sometimes, are more questions of coat and waistcoat than some people imagine." "Please, sir, I want some more." "That boy, Oliver, is an imposter." "Every trade has its draw-backs." |
| information | Villain: Bill Sikes |
Frequently Asked Questions about Oliver Twist
Don't hesitate to contact us. We are ready to help you 24/7
What is the most famous line in Oliver Twist?
"There are books of which the backs and covers are by far the best parts." "It is because I think so much of warm and sensitive hearts, that I would spare them from being wounded." "My heart is set, as firmly as ever heart of man was set on woman.
What is the main theme of Oliver Twist?
Oliver Twist is a story about the battles of good versus evil, with the evil continually trying to corrupt and exploit the good. It portrays the power of Love, Hate, Greed, and Revenge and how each can affect the people involved. The love between Rose and Harry in the end conquers all the obstacles between them.
What is the story of Oliver Twist about in short?
The novel follows the journey of the titular character, Oliver Twist. Oliver, an orphan since birth, spends much of his childhood at a "child farm" (orphanage) with too many children and too little food. The farm is located roughly 70 miles outside London.
What is the message of Oliver Twist?
The primary theme in "Oliver Twist" is the age-old battle between good and evil. As quoted in Enotes, Dickens once wrote that he "wished to show, in little Oliver, the principle of good surviving through every adverse circumstance, and triumphing at last".