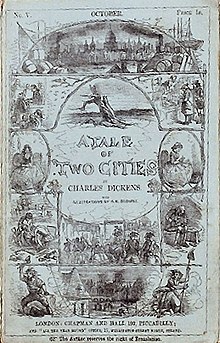 Tale Of Two Cities
We found
17

free papers on Tale Of Two Cities
Charles Dickens, Charles Dickens uses foreshadowing to further the plot of the novel. Dickens foreshadows the plot in a number of ways. In Chapter Five of Book One, Dickens the wine that spills into the streets as a metaphor for the blood spilled in the revolution. Outside of a wine-shop, a wine cask is broken…
Show More
Frequently Asked Questions about Tale Of Two Cities
Don't hesitate to contact us. We are ready to help you 24/7
What is the main idea of the story a tale of two cities?
The main idea of A Tale of Two Cities is the concept of resurrection. Characters are brought metaphorically brought back to live throughout the novel. For example, Dr. Manette is freed from prison at the beginning of the novel, and Carton is spiritually resurrected at the end of the novel through his sacrifice. Read More:
https://graduateway.com/tale-of-two-cities-recalled-to-life/
What two cities are contrasted in a tale of two cities?
The title of Dickens's novel reflects the contrasting themes of the text. The two cities represent two smaller worlds or microcosms. London and Paris are in direct contrast, as well as a small ocean apart: London is in a state of peace, whereas Paris is at war. Even the kings of each country are contrasted.
What is the thesis of a tale of two cities?
Thesis Statement: Throughout the novel, Dickens draws comparisons between the governments of England and France which reveal his opinions regarding governments. Write an essay that examines the roles that women play in the novel. Compare and contrast Lucie Manette and Therese Defarge.
What does a tale of two cities teach us?
With A Tale of Two Cities, Dickens asserts his belief in the possibility of resurrection and transformation, both on a personal level and on a societal level. The narrative suggests that Sydney Carton's death secures a new, peaceful life for Lucie Manette, Charles Darnay, and even Carton himself.