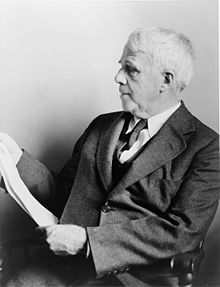 Robert Frost
We found
39

free papers on Robert Frost
Robert Frost
Robert Frost Poetry
Mowing, Mending Walls, Fire and Ice, Stopping by Woods on a Snowy Evening, The Road not Taken and Birches; these are some of the most loved poems from the renowned poet, Robert Frost. Over the years, Frost has been recognized as one of the brightest and finest poets from the 20th century England. A lot…
Show More
born
March 26, 1874, San Francisco, CA
died
January 29, 1963, Boston, MA
description
Robert Lee Frost was an American poet. His work was initially published in England before it was published in the United States.
books
Stopping by Woods on a Snowy Evening 1923, Fire and Ice 1920,
children
Lesley Frost Ballantine, Elliot Frost, Carol Frost, Elinor Bettina Frost, Marjorie Frost
quotations

"In three words I can sum up everything I've learned about life: it goes on." "The Road Not Taken. "We love the things we love for what they are." "These woods are lovely, dark and deep, "Never be bullied into silence. "No tears in the writer, no tears in the reader.

information

Short biography of Robert Frost

Robert Frost was born in San Francisco, but his family moved to Lawrence, Massachusetts, in 1884 following his father's death. The move was actually a return, for Frost's ancestors were originally New Englanders, and Frost became famous for his poetry's engagement with New England locales, identities, and themes.Frost graduated from Lawrence High School in 1892, and he shared valedictorian honors with Elinor White, whom he would marry four years later. Frost attended Dartmouth College for less than a semester, but he left school to teach in New Hampshire. He also worked a number of part-time jobs and published his first poem in 1894.In 1895, Frost's grandfather purchased a farm in Derry, New Hampshire, for Frost and his family. Frost became interested in farming, but he was not successful at it. He sold the farm in 1900 and moved his family to a farm near Plymouth, New Hampshire.

Again, he was not successful as a farmer, and he turned to writing and teaching to support his family.In 1912, Frost sold the farm and moved his family to England, where he met and was influenced by such contemporary poets as Ezra Pound and Edward Thomas. While in England, Frost also established a lifelong friendship with the poet Wilfred Gibson.Frost returned to America in 1915 and bought a farm in Franconia, New Hampshire. He also began teaching at Amherst College, a position he would hold for several years.Frost's first book of poetry, A Boy's Will, was published in 1913, and his second book, North of Boston, followed in 1914. These two volumes established Frost as one of the leading voices in modern American poetry.Frost continued to write and publish throughout his life, and he received numerous honors, including four Pulitzer Prizes. He died in 1963.

General Essay Structure for this Topic

Introduction
The Road Not Taken as a metaphysical poem
The Road Not Taken as an allegory
The Road Not Taken as a symbol of choice
The Road Not Taken as a symbol of the human condition
The Road Not Taken as a symbol of the individual
The Road Not Taken as a symbol of America
The Road Not Taken as a symbol of the future
The Road Not Taken as a symbol of the past
The Road Not Taken as a symbol of the present

Important information

Spouse: Elinor Frost (m. 1895–1938)

Awards: Pulitzer Prize for Poetry
Frequently Asked Questions about Robert Frost
Don't hesitate to contact us. We are ready to help you 24/7
What is Roberts Frost most famous poem?
Robert Frost's most famous poems included "The Gift Outright," "Stopping by Woods on a Snowy Evening," "Birches," "Mending Wall," "The Road Not Taken," and "Nothing Gold Can Stay."
What is the introduction of Robert Frost?
Robert Frost, in full Robert Lee Frost, (born March 26, 1874, San Francisco, California, U.S.—died January 29, 1963, Boston, Massachusetts), American poet who was much admired for his depictions of the rural life of New England, his command of American colloquial speech, and his realistic verse portraying ordinary ...