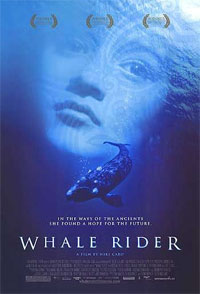 Whale Rider
We found
6

free papers on Whale Rider
            The film Whale Rider is a story of leadership, sacrifice, family, and the role of women and the culture of the Maoris. The movie is depicted through the eyes of Paikea, a strong and intelligent female with the potentials of a leader, a view not shared by other characters in the early part of…
genre
Romance,Children's film,Drama,Family Drama
release date
June 6, 2003 (USA)
cast
Koro
protagonist
Paikea Apirana
information

Only males are allowed to ascend to chiefdom in a Maori tribe in New Zealand. This ancient custom is upset when the child selected to be the next chief dies at birth. However his twin sister, Pai (Keisha Castle-Hughes), survives. At age 12, she enlists the help of her grandmother (Vicky Haughton) and the training of her uncle (Grant Roa) to claim her birthright. But to break with convention, she'll have to do the impossible: win over her ultra-traditional grandfather (Rawiri Paratene).… More

Director: Niki Caro

Starring: Keisha Castle-Hughes; Rawiri Paratene; Vicky Haughton; Cliff Curtis

Music by: Lisa Gerrard

Awards: Critics' Choice Movie Award for Best Young Performer
Frequently Asked Questions about Whale Rider
Don't hesitate to contact us. We are ready to help you 24/7
What does the whale symbolize in Whale Rider?
In the film Whale Rider, the whale represents life and death. The whale represents life because it is the mammal on which Paikea's great ancestor rode across the ocean reaching New Zealand which eventually became the settlement of the Maori people.
What is the conflict in Whale Rider?
Niki Caro's 'Whale Rider' presents the conflict between the older and younger generations, man and woman, past and present, localism and foreignness, tradition and change - in other words, all the very stuff of myth.
What is the main theme of Whale Rider?
Despite its focus on Maori culture, the themes in Whale Rider are universal and highlight important communication principles. We see the power of significant others to affect our self esteem, and the fact that, against strong odds, it is possible to assert ourselves and create an identity of our own.
What is the setting of the Whale Rider?
There is a vast difference between movies for 12-year-old girls, and movies about 12-year-old girls, and "Whale Rider" proves it. The movie, which takes place in the present day in New Zealand, begins with the birth of twins. The boy and the mother die. The girl, Pai (Keisha Castle-Hughes) survives.