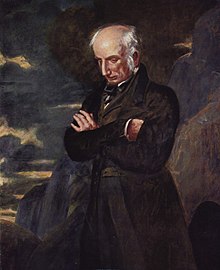 William Wordsworth
We found
14

free papers on William Wordsworth
Wordsmith's Prelude , which was begun in 1 798 appeared only after Wordsmith's death, is an account not only of a poet's coming of age, but also of his disillusionment with the radical political causes that propelled the unexpected violence following from the first revolutionary acts that culminated in the execution of Louis WI and…
Show More
born
April 7, 1770, Cockermouth, United Kingdom
died
April 23, 1850, Rydal Mount & Gardens, Rydal, United Kingdom
description
William Wordsworth was an English Romantic poet who, with Samuel Taylor Coleridge, helped to launch the Romantic Age in English literature with their joint publication Lyrical Ballads.
books
Poems in Two Volumes 1807, Lyrical Ballads 1798, The Prelude 1850
education
University of Oxford, University of Cambridge, St John's College
children
Dora Wordsworth, Catherine Wordsworth, Anne-Caroline Wordsworth
quotations

"The best portion of a good man's life: his little, nameless unremembered acts of kindness and love." "Fill your paper with the breathings of your heart." "Though nothing can bring back the hour. "Wisdom is oft-times nearer when we stoop. "I Wandered Lonely as a Cloud.

information

Short biography of William Wordsworth

William Wordsworth was born in Cockermouth, Cumberland, on April 7, 1770, the second child of an attorney. Unlike the other major English romantic poets, he enjoyed a happy childhood under the loving care of his mother and was very close to his sister Dorothy. His father died when William was 8, and his mother when he was 13; Dorothy became his guardian. When he was at Hawkshead Grammar School, in Lancashire, his love of nature was already evident in his poems, which were published anonymously in the school magazine. In 1787, he went to St. John's College, Cambridge, where he became friends with Samuel Taylor Coleridge, and in 1791 he published a volume of poems, An Evening Walk and Descriptive Sketches, which met with little success.In 1795, Wordsworth and Coleridge published a joint volume of poetry, Lyrical Ballads, with a few other poems. It was on this journey that Wordsworth began the first draft of "The Prelude," a poem that was not published until after his death. After a brief stay in Germany with his sister, in 1799 he returned to England and settled at Dove Cottage, near Grasmere, in the Lake District, with his sister and her husband, William Hutchinson.

This was to be his home for the rest of his life.In 1802, he traveled to France, where he met and fell in love with Annette Vallon, a Frenchwoman with whom he had a daughter, Caroline. He returned to England in 1802 and in 1803 published Poems in Two Volumes, which included "The Prelude." In 1807, he married his childhood friend Mary Hutchinson, and they had five children.In 1813, he published Poems, Chiefly of Early and Late Years, which included The Excursion, a long philosophical poem in blank verse. The following year he published The White Doe of Rylstone, and in 1815 he published The Prelude, a semi-autobiographical poem of his life and development as a poet, considered to be one of the greatest long poems in the English language. In 1819, he published Peter Bell the Weaver, a political satire, and in 1820 he published Home at Grasmere, a collection of love poems to his wife.In 1843, he published The Recluse, a poem in three parts, of which only the first two, The Excursion, were completed. Wordsworth was appointed poet laureate in 1843, and in 1850 he published a collection of his earlier poems. He died at Rydal Mount, in the Lake District, on April 23, 1850.

General Essay Structure for this Topic

The Relationship Between William Wordsworth and Samuel Taylor Coleridge
The Impact of William Wordsworth on Samuel Taylor Coleridge
The Influence of Samuel Taylor Coleridge on William Wordsworth
The Friendship of William Wordsworth and Samuel Taylor Coleridge
The Poetry of William Wordsworth and Samuel Taylor Coleridge
The Lives of William Wordsworth and Samuel Taylor Coleridge
The Minds of William Wordsworth and Samuel Taylor Coleridge
The Correspondence of William Wordsworth and Samuel Taylor Coleridge
The Commonalities of William Wordsworth and Samuel Taylor Coleridge

Important information

Spouse: Mary Hutchinson (m. 1802–1850)
Frequently Asked Questions about William Wordsworth
Don't hesitate to contact us. We are ready to help you 24/7
Why is William Wordsworth important?
William Wordsworth was one of the founders of English Romanticism and one its most central figures and important intellects. ... Wordsworth is best known for Lyrical Ballads, co-written with Samuel Taylor Coleridge, and The Prelude, a Romantic epic poem chronicling the "growth of a poet's mind."
Why was William Wordsworth called a romantic poet?
In the first part, William Wordsworth is known as the master of Romantic Poetry for his literary brilliance, depiction of emotions, personifying human life with nature, and propagation of a way of living which called everyone back to nature.