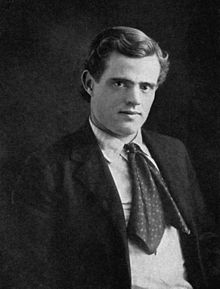 Jack London
We found
13

free papers on Jack London
The cycle of life and death is always evident in life. Death is as natural as birth. The difference is the way by which the death reaches a person and that person faces the situation. In the "Law of life" by Jack London, that law becomes much more must-accepted in the situation of a tribe…
Show More
born
January 12, 1876, San Francisco, CA
died
November 22, 1916, Glen Ellen, CA
description
John Griffith London was an American novelist, journalist, and social activist. A pioneer of commercial fiction and American magazines, he was one of the first American authors to become an international celebrity and earn a large fortune from writing.
books
The Call of the Wild 1903, White Fang 1906, Martin Eden 1909
children
Joan London, Bessie London, Becky London
quotations

You can't wait for inspiration. The proper function of man is to live, not to exist. Life is not a matter of holding good cards, but sometimes, playing a poor hand well. There is an ecstasy that marks the summit of life, and beyond which life cannot rise.

information

Short biography of Jack London

Jack London (January 12, 1876 – November 22, 1916) was an American author who wrote The Call of the Wild and other famous books. A pioneer in the then-burgeoning world of commercial magazine fiction, he was one of the first fiction writers to obtain worldwide celebrity and a large fortune from his fiction alone. Some of his most famous works include White Fang and The Call of the Wild. He also wrote of the South Pacific in stories such as The Pearls of Parlay and The Heathen, and of the San Francisco Bay area in The Sea Wolf.Jack London was born John Griffith Chaney, the illegitimate son of Flora Wellman, a music teacher, and her lover, William Chaney, an astrologer. His mother was the daughter of an English-born father, George Henry Wellman, who worked as a journalist, and an Irish-born mother, Flora Wellman.When Jack was seven, his mother married John London, a Civil War veteran, and they moved to Oakland, California, where Jack took the name of his stepfather. He attended school there until he was 14, when he dropped out to earn his own living.

He worked in many different jobs, including as a seaman and a prospector, before finally turning to writing as a profession.London's first published article appeared in The Overland Monthly in 1892, and his first story, "To the Man on Trail", was published in The Youth's Companion in 1896. His first novel, The Call of the Wild, was published in 1903. This was followed by White Fang (1906), The Sea Wolf (1904), and many other works.London was married twice, first to Bess Maddern in 1900, with whom he had two daughters, and then to Charmian Kittredge in 1905. He died of uremia at his ranch in Glen Ellen, California, at the age of 40.

General Essay Structure for this Topic

Introduction
The Setting
The Characters
The Plot
Themes
Style
Language
Imagery
Symbolism
Conclusion

Important information

Short stories: To Build a Fire, The Mexican, The Law of Life, The White Silence, A Piece of Steak

Spouse: Charmian London (m. 1905–1916), Elizabeth Maddern (m. 1900–1904)
Frequently Asked Questions about Jack London
Don't hesitate to contact us. We are ready to help you 24/7
How did Jack London impact the world?
Jack London means many things around the globe. He was a pivotal writer at the turn of the century whose literary naturalism and socialism also had important effects on the literatures of many nations – including, first the United States, but by the year 2000, also in nearly 100 separate languages. Read More:
https://graduateway.com/essay-to-build-a-fire/
How would you describe Jack London?
John Griffith London (born John Griffith Chaney; January 12, 1876 – November 22, 1916) was an American novelist, journalist and social activist. A pioneer of commercial fiction and American magazines, he was one of the first American authors to become an international celebrity and earn a large fortune from writing.
What is the Jack London story?
John Griffith Chaney, better known as Jack London, was born on January 12, 1876, in San Francisco, California. ... London grew up working-class. He carved out his own hardscrabble life as a teen. He rode trains, pirated oysters, shoveled coal, worked on a sealing ship on the Pacific and found employment in a cannery.