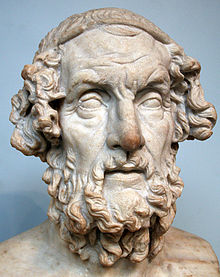 Homer
We found
117

free papers on Homer
Heroic glory occupies a very crucial place in the Indo-European epic tradition, because the Greek society is a shame culture, in which being honoured is one of the primary purposes of people's lives. Hence, the concept of kleos formed an essential part of the bardic tradition which helped the people to maintain the heroic stature…
Show More
born
Ionia
died
Ios, Greece
description
Homer was the reputed author of the Iliad and the Odyssey, the two epic poems that are the foundational works of ancient Greek literature. He is regarded as one of the greatest and most influential writers of all time.
quotations

"Of all creatures that breathe and move upon the earth, nothing is bred that is weaker than man." "… "Any moment might be our last. "Hateful to me as the gates of Hades is that man who hides one thing in his heart and speaks another." "There is a time for many words, and there is also a time for sleep."

information

Resting place: Tomb of Homer, Ios

Parents: Krithiida, Meonas
Frequently Asked Questions about Homer
Don't hesitate to contact us. We are ready to help you 24/7
Who was Homer in simple words?
Homer is the presumed author of the Iliad and the Odyssey, two hugely influential epic poems of ancient Greece. If Homer did in fact compose the works, he is one of the greatest literary artists in the world, and, through these poems, he affected Western standards and ideas. Read More:
https://graduateway.com/an-analysis-of-the-iliad-essay-sample/
Why is Homer so important?
Homer's most important contribution to Greek culture was to provide a common set of values that enshrined the Greeks' own ideas about themselves. His poems provided a fixed model of heroism, nobility and the good life to which all Greeks, especially aristocrats, subscribed. Read More:
https://graduateway.com/the-homeric-poems-essay/